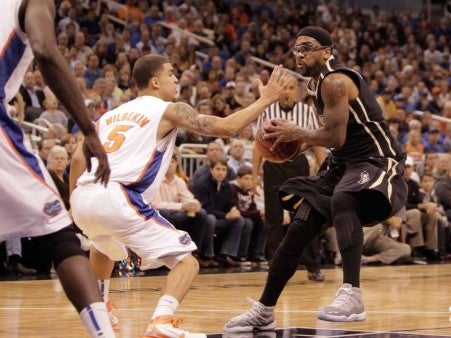 Having helped the UCF men's basketball team to one of the most memorable seasons in school history, sophomores Marcus Jordan (Chicago, Ill.) and Keith Clanton (Orlando, Fla.) both received All-Conference USA honors Monday. Jordan was selected to the All-C-USA Second Team, while Clanton earned all-league third team honors.
The pair of all-league honorees in the same season for UCF is the first for the program since the school joined C-USA prior to the 2005-06 campaign.
Jordan ranks seventh in the league in scoring at 15.9 points per game. The guard has scored in double figures in all but three contests this year. Jordan leads C-USA with 153 made free throws and 189 free-throw attempts, and is sixth in the league in free-throw percentage (81.0).
Jordan has paced the team in scoring 13 times, and has totaled at least 20 points on eight occasions. He leads the Knights and ranks 10th in C-USA in assists per game (3.3), making him one of just two players in the conference to be listed in the top 10 in both scoring and assists.
The only Knight to start all 29 games this year, Clanton is averaging 13.9 points and leads UCF and is fifth in the league in rebounds per game at 8.2 He ranks sixth in C-USA in field-goal percentage (51.3) and third in blocks per game (1.9). His 55 blocks are good for fourth on the school single-season register.
The former Orlando Christian Prep star has scored in double digits 22 times in 2010-11, and has grabbed at least seven rebounds 22 times.
Both Clanton and Jordan were named to the C-USA All-Freshman Team last year.
This year, the sophomores have helped UCF post a 19-10 regular-season mark. The Knights opened the campaign with 14-straight victories and entered the national rankings for the first time in program history. UCF concluded the regular-season by winning five of its last seven contests.
UCF has not had multiple players earn all-league honors since 2004-05 when Gary Johnson and Josh Peppers both garnered All-Atlantic Sun Second Team recognition.
The ninth-seed Knights will open play at the C-USA Championship in El Paso, Texas, on Wednesday. UCF will meet eighth-seed East Carolina at 1 p.m. Eastern. The contest will air on the UCF Sports Network from IMG College and its flagship station, 740 The Game in Orlando.
2010-11 ALL-CONFERENCE USA FIRST TEAM
Randy Culpepper, UTEP, G, 6-0, 165, Sr., Memphis, Tenn.
Papa Dia, SMU, F, 6-9, 235, Sr., St. Louis, Senegal
Gary Flowers, Southern Miss, F, 6-8, 214, Sr., Dallas, Texas
Justin Hurtt, Tulsa, G, 6-4, 201, Sr., Raytown, Mo.
Aaron Johnson, UAB, G, 5-8, 185, Sr., Chicago, Ill.
Jamarr Sanders, UAB, G, 6-4, 200, Sr., Montgomery, Ala.
2010-11 ALL-CONFERENCE USA SECOND TEAM
Marcus Jordan, UCF, G, 6-3, 200, So., Chicago, Ill.
Arsalan Kazemi, Rice, F, 6-7, 205, So., Esfahan, Iran
Cameron Moore, UAB, F, 6-9, 205, Jr., San Antonio, Texas
Julyan Stone, UTEP, G, 6-7, 200, Sr., Goletta, Calif.
Kendall Timmons, Tulane, G/F, 6-8, 205, So., Fort Worth, Texas
2010-11 ALL-CONFERENCE USA THIRD TEAM
Will Barton, Memphis, G, 6-6, 175, Fr., Baltimore, Md.
Keith Clanton, UCF, F, 6-8, 245, So., Orlando, Fla.
DeAndre Kane, Marshall, G, 6-4, 200, Fr., Pittsburgh, Pa.
Robert Nyakundi, SMU, F, 6-8, 220, Jr., Arlington, Texas
Jontae Sherrod, East Carolina, G, 6-3, 210, Sr., Tarboro, N.C.