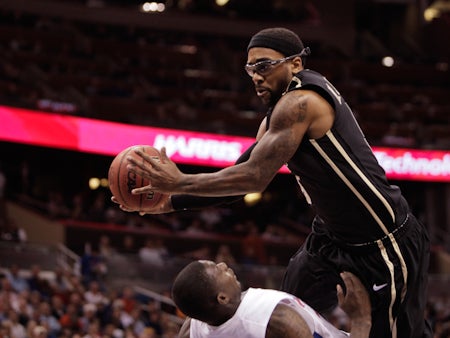 With his No. 19/21 Knights down by eight points to Princeton at halftime Thursday evening, UCF head coach Donnie Jones challenged his team. As they have all season, Jones' squad responded, and the result was a hard-fought 68-62 victory that gave the Knights (13-0) the UCF Holiday Classic presented by EA Sports championship.
With tournament MVP Marcus Jordan scoring 22 of his 26 points after intermission, UCF outscored the Tigers (10-4) 39-25 in the second half. Sure the Knights shot 50.0 percent from the field following the break, but it was defense that allowed the team to snap the Tigers' eight-game winning streak and finish non-conference play without a loss.
Princeton shot just 35.0 percent in the second half, and Jordan helped limit Dan Mavaraides, who totaled 18 points in the opening stanza, to just two points in the final 20 minutes. The Knights held Princeton without a field goal for the final five minutes of the game.
"I got after (our) guys and challenged them at halftime," Jones said. "They have to understand that [when] they are playing a team as good as Princeton, that is an NCAA Tournament caliber team coming in here. You can't come in and not play at the level you need to play at from the start. But our guys have been resilient."
Jordan shot 6-of-9 overall after intermission, and made 10-of-11 foul shots. The second half featured seven lead changes and four ties, but Jordan gave the hosts the lead for good at the 3:42 mark when he hit a pair of free throws. Princeton got within two points with 59 seconds to play, but Jordan was fouled on the ensuing possession and hit two free throws at the 38 second mark to extend UCF's advantage.
Princeton led 37-29 at the break after shooting 48.3 percent and forcing 10 UCF turnovers in the first half. The Tigers' zone was effective, and as a result, six of UCF's 10 made field goals in the first half were from 3-point range.
But after Jones' fiery halftime speech to his team, the second half was more positive for the Knights, right from the start. UCF opened the final 20 minutes on an 11-2 run. Jordan had nine points during the spurt, which he capped at the 14:56 mark with a jumper than handed the hosts a 40-39 advantage.
"Coach got (into) us at halftime," Jordan said. "We just wanted to come out with a whole different energy, and put a whole lot of pressure on them. I think our aggressiveness on defense led to us being aggressive on offense."
Jones was pleased that his team handled adversity Thursday and rallied to defeat a Princeton team that he believes will make the NCAA Tournament in March.
"They're a unique group, very resilient," he said. "They don't panic. They are very poised. They really stay focused and try to find a way to win."
Jordan was joined on the all-tournament team by UCF's Keith Clanton, who grabbed 10 rebounds to go with eight points and a team-high four assists. In the win, Tom Herzog totaled 12 boards and eight points.
Mavaraides was named to the all-tournament team, as was teammate Ian Hummer (19 points), Chaisson Allen of Northeastern and Amu Saaka of Furman. UCF opened the event Wednesday with a 71-53 win over Furman.
UCF will open Conference USA play next Wednesday, hosting Marshall at 7 p.m.