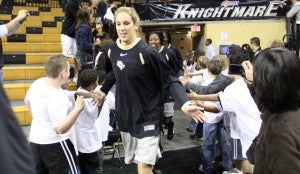 UCF redshirt junior Kayli Keough (Land O'Lakes, Fla.) was named to the 2012 Conference USA Women's Basketball All-Academic Team, the league announced Thursday afternoon.
Keough has been a member of the UCF Athletic Director's Honor Roll every semester since enrolling as a Knight after transferring from Florida State a year ago. In 2010-11, she was recognized by the C-USA on its Commissioner's Honor Roll in addition to earning the C-USA Commissioner's Academic Medal.
This year, she has been nominated by unanimous vote by UCF's faculty for a university Founders' Day Award, given annually to students who demonstrate exceptional ability in a particular area of study. Keough holds a 3.961 grade-point average in sociology and is the Knights' third-leading scorer at 10.1 points per game.
The Land O'Lakes, Fla., native is ranked among the league leaders in field goal percentage during conference play, hitting .407, and ranks among the top-15 scorers. She worked her way into the starting lineup in UCF's Thanksgiving Classic and has started every game since.
In addition to her outstanding work on the court and in the classroom, Keough has spent time volunteering at numerous charitable events, including the 2011 Walk to End Alzheimer's, the Komen Central Florida Race for the Cure, Give Kids the World, Florida Citrus Sports Camp and Miracle Field.
Keough is the first Knight since Keunta Miles in 2006-07 to receive the distinction. Keough is joined by Houston's Roxana Button, Tulsa's Tiffani Couisnard, UAB's Amber Jones and UTEP's Kelli Willingham on the team, and she holds the highest GPA of the quintet.