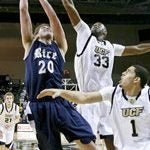 Keith Clanton will never forget when he met his dorm mate's father freshman year. Clanton had grown up with a poster of the man hanging on his wall, famously hitting a title-clinching jump shot over Bryon Russell. On this day, the University of Central Florida forward walked out of his bedroom not knowing he was about to step into his childhood fantasy.
Michael Jordan was sitting outside.
"It was a crazy experience," said Clanton, who was living with teammate Marcus Jordan at the time. "I come out of room, I see Michael Jordan. I just said, 'Hey,' and introduced myself. It was real weird. I was in shock, starstruck."
Retreating inside his room, the 6-foot-8 teenager immediately got on the phone to relive the moment and stammered, "I didn't know what to say, Mom."
UCF's season has also been one surprising brush with greatness. The Knights, under first-year coach Donnie Jones, are 14-2, and they're undefeated in nonconference play for the first time in the program's history behind strong play from Clanton and Marcus Jordan.
One of the sophomores is nationally recognized for his prominent parent and the tremendous leap he has taken as his own player. The other is Clanton, who, having learned the value of humility from his mother, was content with quietly leading his hometown school in scoring and rebounding in the 13-0 nonleague start.
"What I tell him is, 'You keep doing what you need to do, and eventually you'll be recognized for how you contribute all the way around,'" Gloria Leeks said. "It's not about the limelight. It's how you finish. It's something that I told him: 'Focus on you. Do the best that you can.' That's how you live."
Clanton has never met his own father. Leeks raised three children, providing her youngest with everything from piano lessons to her services as a team mom to the Kareem Abdul-Jabbar-style goggles he grew up wearing on the court.
A versatile power forward, Clanton also developed a comfort level flying under the radar. He led tiny Orlando Christian Prep to two state titles and was a role player on an AAU team with McDonald's All-Americans Brandon Knight (Kentucky) and Kenny Boynton (Florida).
"It was sort of hard," Clanton said. "You don't get to shine as much. You just keep playing. It's not about who's the star."
In choosing UCF, Clanton turned down opportunities to play at power conference schools in South Florida and South Carolina. Clanton's desire to stay close to his family and within a quick drive of a home-cooked meal was a major factor, as was a comfort level with then-coach Kirk Speraw, whose son, Dustin, was a grade-school teammate.
That UCF received a commitment from highly regarded Clanton has had a recruiting domino effect on a program looking for its first NCAA tournament appearance since leaving the Atlantic Sun for Conference USA before the 2005-06 season.
"Local kids viewed it as a lower-level Division I program," said Mike Jaskulski, Speraw's former associate head coach who recruited Clanton. "Even when we made the jump, it was still hard to change that perception.
"I truly believe that when Keith made his commitment, everybody in the area knew what a good player he was. We thought, from that point on, young players were going to take a look at our program since Keith Clanton went there."
Word spread to Marcus Jordan, a talkative guard from Chicago who inherited his father's competitiveness and sought to make a name for himself. UCF point guard A.J. Rompza, a former high school teammate, told Jordan that Clanton would be the highest-ranked player to ever sign with the Knights.
"That really kind of inspired me to come and create something new," Jordan said. "We really just wanted to create our own legacy."
Jones, the former Florida assistant and Marshall coach who took over after Speraw was fired in the offseason, has since signed three top in-state recruits and watched Jordan (16.5 ppg) and Clanton (15.6) flourish as the top two scorers in his up-tempo offense.
Clanton, who improved his shot mechanics under Speraw as a freshman and bulked up about 15 pounds to 245 this past summer, is skilled enough to lead the fast break and extend his range to the 3-point line, where he leads the team in shooting at 46 percent. He ranks fourth in Conference USA in field goal percentage (.526), fifth in rebounding (8.7) and second in blocks (2.1). He's second on the team in steals (1.1) and third in assists (1.8) while playing in a point-forward role to complement Jordan.
"Keith actually gets more joy out of passing the ball," said Speraw, now an assistant coach at Iowa. "He gets more joy out of being the delivery guy. That goes to his upbringing. It's about the team rather than Keith Clanton. He's very unselfish. He doesn't need to be the center of attention."
Rather than develop a rivalry over who received the recognition, Marcus Jordan and Clanton bonded so well while sharing a suite and the basketball that Jordan has even jokingly called Clanton his "Scottie Pippen." (Both wear No. 33.)
Michael Jordan, who has attended two games this season and addressed the team before a practice, knows his son's sidekick for more than just the bumbling dorm-room introduction last year.
In fact, His Airness has even spent time dreaming up dunks for the reserved Clanton.
"My dad mentioned it to me that he's a great player, that Keith has to develop a little more of an aggressive edge and develop a drop-step dunk," Marcus said. "If he were to get that extra dog in him, it would take him to another level.
"I shared that with Keith. He's taking it to mind."
Leeks is the one Clanton credits for keeping him grounded, and she's able to experience the joy of attending nearly all of UCF's home games to watch her son. It was Clanton who connected on two game-sealing free throws in a program-defining win against Florida in Orlando last month. Maybe one day he might even become an all-time great in his own right.
"He has the chance to be remembered for a long time, helping put UCF on the map," Jones said.
Source: ESPN.com, Keith Clanton relishes sidekick role, by Diamond LeungESPN.com. Diamond Leung covers college basketball for ESPN.com and can be reached at diamond83@gmail.com.