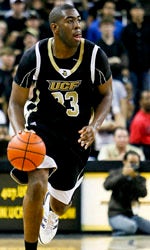 NEWS & NOTES
• The contest was played in front of 8,727 fans, the second-largest crowd in school history.
• At halftime, UCF honored former head coach Torchy Clark, and three-time All-America selection Bo Clark, by unveiling banners inside the UCF Arena.
• As part of UCF's Armored in Black Homecoming theme, the Knights wore black jerseys at home.
• Isaac Sosa's 26 points were a career high. His six 3-pointers matched a career high, set last season against Florida Tech.
• P.J. Gaynor made his first career start in the victory. He finished with 11 points in 24 minutes.
• In 31 minutes, A.J. Rompza totaled 13 points on 6-of-8 shooting. He dished out five assists, and had just one turnover.
• Dave Diakite totaled eight points and seven boards while making his first start. The eight points were a career best for the redshirt freshman.
• Five UCF freshmen – Keith Clanton, Marcus Jordan, Nike Garcia, Dogukan Kuzucan and Amara Thompson – made their collegiate debuts against the Minutemen. Clanton logged 27 minutes and scored nine points to go with eight boards.
• Jakub Kusmieruk came off the bench to score six points and grab three boards in nine minutes.
• The Knights shot 54.5 percent from the field, and 58.3 percent from 3-point range for the contest.
• UCF also finished with a 44-38 edge on the glass.
• With the win, the Knights claimed their eighth-consecutive season opener.
• UCF has now won 18-straight home contests during the month of November.
Final score: UCF 84, UMass 67.