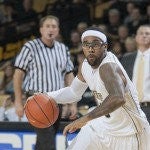 Marcus Jordan's 26 help No. 18 UCF remain unbeatenMarcus Jordan had 26 points and five assists and Central Florida (No. 18 ESPN/USA Today, No. 19 AP) remained unbeaten with a 65-58 win over Marshall on Wednesday night.
Jordan, son of NBA star Michael Jordan, had 18 points in second half when UCF used a 10-0 run to take control of the game.
Keith Clanton added 14 points and Isaac Sosa 13 for the Knights (14-0, 1-0 in Conference USA).
Shaquille Johnson led Marshall with 15 points. Tirrell Baines added 14 for the Thundering Herd (10-4, 0-1.)
Clanton started and finished the 10-0 run with layups. Jordan also had a 3-point play and Sosa made a 3-pointer and UCF erased a four-point deficit and took a 52-46 lead with 5:01 left.
The Knights led by as many as eight, but didn't clinch the win until Clanton's two free throws with 15 seconds left.
Neither team could get more than a four-point advantage in the first half that ended at 28-28.
Jordan had eight points and Sosa hit a pair of 3-pointers.
Marshall shot only 40.7 percent for the half. Baines had four dunks on his way to 10 first-half points.
Source: ESPN.com, Marcus Jordan's 26 help No. 18 UCF remain unbeaten