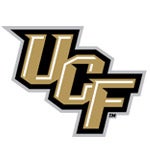 UCF men's basketball head coach Donnie Jones announced Monday that Isaiah Sykes, a talented perimeter player from Detroit, Mich., has signed a National Letter of Intent to join the Knights prior to the 2010-11 season. The 6-foot-5 Sykes, who recently completed a successful senior campaign at Denby High School, is listed as the 39th-best small forward in the nation by Scout.com.
Sykes averaged 19.7 points, 5.9 rebounds and 4.3 assists in leading Denby to the Michigan Class A state semifinals. After the season, Sykes was selected to play in the Michigan High School All-Star Game, where he scored 17 points.
"We are excited about Isaiah's versatility. We think he is capable of playing multiple positions in our style of play," Jones said. "He is a terrific passer who has great toughness. He had an outstanding senior season and will really fit into our style of play."
At Denby, Sykes was coached by Chuck Albright. On the AAU level, he starred for the Michigan Hurricanes and coach Will Smith. Last summer, Sykes participated in the Reebok All-American Camp in Philadelphia and earned all-star honors at the event.
Sykes joins a recruiting class that features guard Jarvis Davis, who attended Hargrave Military Academy in Virginia, forward Dwight McCombs of Moraine Valley Community College in Illinois and center Tom Herzog, who is transferring from Michigan State.
The UCF ticket sales office is currently accepting season-ticket deposits for the campaign at (407) UCF-1000 or online at UCFAthletics.com. By placing their deposit now, fans will receive a free 2010-11 NIKE Knightmare t-shirt with their ticket purchase. Season tickets start at just $99.