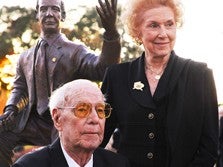 Founding President Charles Millican was honored for his courage, dedication and vision on Friday with the unveiling of a bronze statue commissioned by UCF alumni.
"I feel highly honored and deeply, deeply grateful," Millican told the crowd of more than 300 just before the statue's unveiling. "I thank you very much for making my impossible dream about this university come to pass."
Millican had quite the challenge, President John Hitt told the crowd. As the newly appointed president of a newly established state university, he had a budget of $75,000 and an office above a drugstore in downtown Orlando.
"Charlie dreamed, but he also worked-worked very hard-and he molded his dreams into reality," Hitt said. "We follow in the footsteps of a humble man of strong faith, a private man who has created a lasting legacy, and a public servant whose wisdom and counsel continue to benefit us all."
The nearly six-foot tall statue is located in front of the university's administration building, also named in Millican's honor. The idea for a statue was initiated by a group of UCF alumni nearly two years ago and the artwork entirely paid for with private donations.
Millican, considered the founding father of UCF, was chosen by the Florida Legislature in 1965 to help plan and build the university. He choose the university's new motto: "Reach for the Stars." Millican left the presidency on Feb. 1, 1978, but remained a faculty member teaching in the College of Business Administration until 1981. He was given the title of president emeritus and he and his wife Frances have remained active supporters of UCF all these years.
Millican joked that when he first heard of the idea to create a statue with his likeness, he said, "you guys have lost your mind." But now, he said, "This statue says something very simple to all of us, and it is to 'reach for the stars.'"