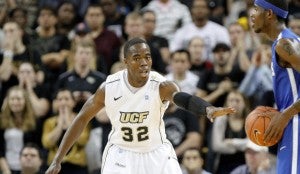 Isaiah Sykes has seen the worst the mean streets of southwest Detroit can throw at a person and lived to tell about it. He's overcome the tragic death of his father and witnessed friends and even his own brother succumb to gang violence, and he was repeatedly bounced around Detroit's floundering school system.
But this isn't so much a story about where Sykes is from as it is a celebration of where he is now. As a rising sophomore on UCF's basketball squad, Sykes is roughly 750 miles from the hardscrabble life of his past. But theoretically, he's a million miles away from a path that once seemingly headed nowhere. As a productive college student and a significant basketball talent, Sykes' future is as bright now as his past was dark and grim a few years ago. And for those reasons alone, his mother, Dominique Sykes, sheds tears of joy from time to time when the topic turns to Isaiah's ascent.
"It's hard to describe how I feel about what Isaiah has done for his life because he's made some remarkable strides as an athlete and mostly as a young man," Dominique said from her Detroit home. "He's come such a long way. I see him maturing and growing. He knows he has opportunities with school and basketball, but he's staying very humble. I'm so happy for him."
Growing up in southwest Detroit, Sykes witnessed a lot most would prefer to wipe from their memory banks, but he said he doesn't ever want to forget where he's from.
"That's where I'm from and I'll always try to represent Detroit the right way," said Sykes, who's been nicknamed "Zeke" by his teammates the same as former Detroit Pistons guard Isiah Thomas was in the 1980s and `90s. "I've seen a lot of tough things in life and really I think that's where my toughness comes from today. When I was younger, I went through a lot of stuff and now I'm more prepared for that stuff and more aware. I guess it got me ready for later in life."
Sykes' toughness and desire to succeed are big reasons why he is unquestionably the most improved player on UCF's basketball team. His dramatic growth as a player and a person are also big reasons why the Knights (20-8 overall and 9-5 in Conference USA play) are in the midst of a strong season.
By averaging 12.5 points and 6.6 rebounds a game, Sykes has given the Knights a reliable third option behind junior standouts Marcus Jordan and Keith Clanton to round out the roster. But it's been somewhat of a surprise to some that Sykes has been this good this quickly.
"We sat down at the end of last season and talked about where he was and where he needed to get to. Great players adjust and improve and he did that," said Knights coach Donnie Jones, the man most responsible for helping Sykes attend UCF. "He worked on his ball-handling and timing and his body got stronger. He worked on knowing what's a good shot and what's not, and that's important. Most of all he found ways to be productive whether that's posting up, getting an offensive rebound or tip-ins for us. His shot has gotten better and his free throws are improved. He knows he belongs here, and we're so excited about him because he's going to have a great career here."
Surviving Tough Times
To fully understand the growth that Sykes has achieved, you must know of the obstacles in his life that he's had to hurdle to get to this point.
Pierre A. Sykes Sr., the father of five sons, was a heavy influence on his boys, often playing basketball and football with the family in the neighborhood. "Trust me," Dominique Sykes said, "the apples didn't fall far from the tree."
But Pierre began suffering from complications from diabetes and died in when Isaiah was just five years old. The death sent the family into a spiral and after moving around several times the family landed in southwest Detroit. Because of its high crime rate and drug activity, families don't move to southwest Detroit; they end up there. The Sykes family did its best to survive and stick together.
"Isaiah lost his father when he was still young, and that was a traumatic blow for our family," Dominique said. "Their father was taken away from them and it hurt because he was very close with his kids. He played basketball and football with them and he was an exceptional father. He took his kids to school and was involved in a male mentoring program for his kids. So when he died that tore us up.
"After his father passed, I moved the family around and we ended up in southwest Detroit," Dominique continued. "That's when Isaiah saw a lot of his friends killed and fall off into the streets and out of school. But Isaiah stayed into basketball, never drank and never smoked or hung out late. He took care of his business in school and always had a passion for basketball ever since he could hold a ball in his hands."
That love of basketball and some tough love from his mother kept Sykes on the right path. He said he realized at an early age that he could either play basketball or hang out on the streets, but doing both was not an option. Some friends chose the latter option, and Sykes systematically culled them from his life. Even his older brother, Demetrius, strayed at times as a part of a gang, and Sykes had to make the difficult decision of distancing himself from family.
"I had a lot of friends who played basketball but did bad things and got in trouble. I had to eliminate friends that were not doing the things that I was into. I was trying to stay positive and go to college and get a degree," Sykes said. "I've seen friends get killed, guys going to jail all of the time. And then there was so much gang violence. It almost came to a point where I either had to do that or play basketball because you really can't live both of those lives. I chose basketball and that was the biggest decision of my life."
Further complicating matters, Sykes was forced to attend three high schools because of the floundering school system in the Detroit area. The city's population has plummeted through the years, and that was one reason why two of Sykes' high schools closed.
But regardless where he lived or where he attended school, basketball was always a savior for the 6-foot-5, 210-pound Sykes. It gave him a purpose, taught him discipline and kept his track in life on course. He shudders to think where he'd be had the sport not been in his life.
"I think basketball saved me and, really it got me out of there," Sykes said. "It's really not a place you ever want to be, but hey, it was home for me. I had to deal with it, live with it and just do the best that I could."
Blossoming at UCF
Sykes is at UCF because Jones saw him play for the Michigan Hurricanes, an elite AAU team that once produced Anthony Roberson for the University of Florida. Jones was immediately impressed with Sykes' grit and defensive toughness and got him to consider UCF even though he was being heavily recruited by Michigan and Arkansas.
Once on campus at UCF, Sykes thought he was in heaven. Whereas Detroit is marred by abandoned buildings and gloomy weather, UCF's campus offered up new construction, leafy palm trees and 70-degree sunshine most of the winter. And when Sykes was welcomed into family atmosphere of the UCF basketball team, he was sold on the Knights.
"Coach Jones just seemed like a guy that I could always trust," Sykes said. "And once I met all of the guys on the team they were cool. It felt like it was the kind of place where I could come and be a part of a family."
As it turns out, that nurturing, caring environment was just the kind of place for Sykes' talent to blossom. After averaging just 4 points and 3.2 rebounds a game as a freshman, Sykes came back this season a changed player. An offseason of working with the coaches and being in a safe environment was like adding Miracle Grow to his games, and the roots developed quickly.
On Saturday, he poured in 23 points and grabbed 11 boards in UCF's win over UTEP. He had a 27-point, 10-rebound effort against Southern Miss and a 21-point, 14-point masterpiece against Houston. He put up 20 and 10 in a road win at East Carolina and his scintillating chase-down block a few weeks ago against Marshall is one of the most dazzling highlights of the season.
Sykes has struggled with the occasional growing pains, but for the most part his growth as a player and person has been phenomenal.
"He's by far the most improved player on our team. He didn't have any kind of outside shot or anything that he believed in, but over the summer he spent a tremendous amount of time on his game and his body," UCF director of program development Brendan Suhr said. "I really think he's one of the best players in Conference USA. I always say if you could have a draft of all the players in C-USA I think every coach in the league would want him on their team. He plays both ends of the floor and he's so physically imposing. He can play four positions and he just keeps getting better and better. We've even seen him take a dramatic leap in the past two months. It's exciting now to think that we still have two-plus years to work with him."
Rags to Riches
Suhr has some unique perspective when he sees the growth and maturity that Sykes has made. Suhr started his coaching career in the 1970s with Dick Vitale at the University of Detroit. And he later went onto to become a lead assistant under Chuck Daly for the Detroit Pistons' teams that won back-to-back titles in 1989 and 1990.
Through the years, Suhr became quite familiar with the southwest Detroit area and worked with or recruited some of the talent to come out of there such as Terry Tyler, John Long, Earl Cureton, Derrick Coleman and Steve Smith.
Suhr said Sykes' feeling of family around the UCF basketball team can't possibly be overstated considering he had to survive the mean streets of southwest Detroit. Likely for the first time in years, the small forward is in a safe, positive environment and that's why he's blossoming so quickly now.
"It's one of the things that (former Georgetown coach) John Thompson and (former Temple coach) John Chaney always advocated for, which most people never understood. It's that with kids who come from lesser means, if you put them in a great environment and a great college, then it changes their life," Suhr said.
Suhr said that Sykes "absolutely could play in the NBA someday" if he continues his improvement as a player. While that NBA dream is in the back of his mind, Sykes said not a day passes when he doesn't think about how his life could have been different were it not for basketball. And UCF has served as the Petri dish for that growth, and for that Sykes will forever be grateful.
"I think all of the time about how things in my life could have gone, but I prefer to be positive," he said. "I thank God that he guided me here to UCF so that I could come here and do different things and do positive stuff in life."