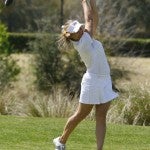 UCF junior Katie Detlefsen (Eagan, Minn.), freshman Valentina Fontaine (Santiago, Chile) and freshman Carolin Pinegger (Marquartstein, Germany) were all named to the women's golf All-Conference USA third team on Monday in a vote of the league's coaches.
Detlefsen was also named to the C-USA All-Academic Team last week for the second consecutive year. She joins Abby Bools of East Carolina and Marissa Steen of Memphis as the three student-athletes to make both the academic and regular squads. Detlefsen earned her bachelor's degree in just two years with a 4.0 cumulative GPA and, as a junior, is all ready working towards a master's degree in mass communications.
The native Minnesotan had a tremendous improvement in 2009-10 where her 77.28 stroke average was well ahead of her 79.17 from 2008-09 and 80.65 from 2007-08. Detlefsen had the first five par-or-better rounds of her career this year and two top 10 finishes after having just one during her first two years combined.
Freshmen Fontaine and Pinegger combined to place first for the Knights in eight of UCF's 11 events this year and reflect a strong future for UCF under head coach Courtney Trimble.
Fontaine led the team with a 76.79 stroke average, five par-or-better rounds and three top 10 finishes. She topped the Knights five times on the year, three times in the fall and twice in the spring.
Pinegger narrowly edged Detlefsen for second on the team with a 77.17 stroke average. She posted four par-or-better rounds, including a 67, and had a pair of top 20 finishes.