Feel the jolts, bumps and turns as you navigate a racecourse computer game in your own living room. And get the same theme park ride experience without the long lines. That's the idea when you sit behind the wheel of the racecar simulator- a senior design project built by mechanical engineering students James Stauffer, Steve Heagney and Frank Marinacci and showcased at the MMAE Senior Design Expo this week.
Built to feel like a real vehicle, the driver has a steering wheel and pedals to control. The whole vehicle tilts and surges forwards and backwards and moves according to the course, giving the feel of a real ride while never leaving its spot in front of the computer monitor.
"It has three USB ports and is compatible with any commercial computer-based racing game," said Stauffer. The simulator cost $1,500 to build is also designed with home-use in mind as it can fold flat for storage.
The team may try to market the simulator for home-use and they see a lot of potential in modifying the design for other uses such as a flight simulator.
If you're a weekend mechanic, changing the oil, tire or just tinkering with your motorbike may get a lot easier with a jack designed by Chester Rowe, Patrick Smidebush, Leyber Cedeno and Gene Heagney.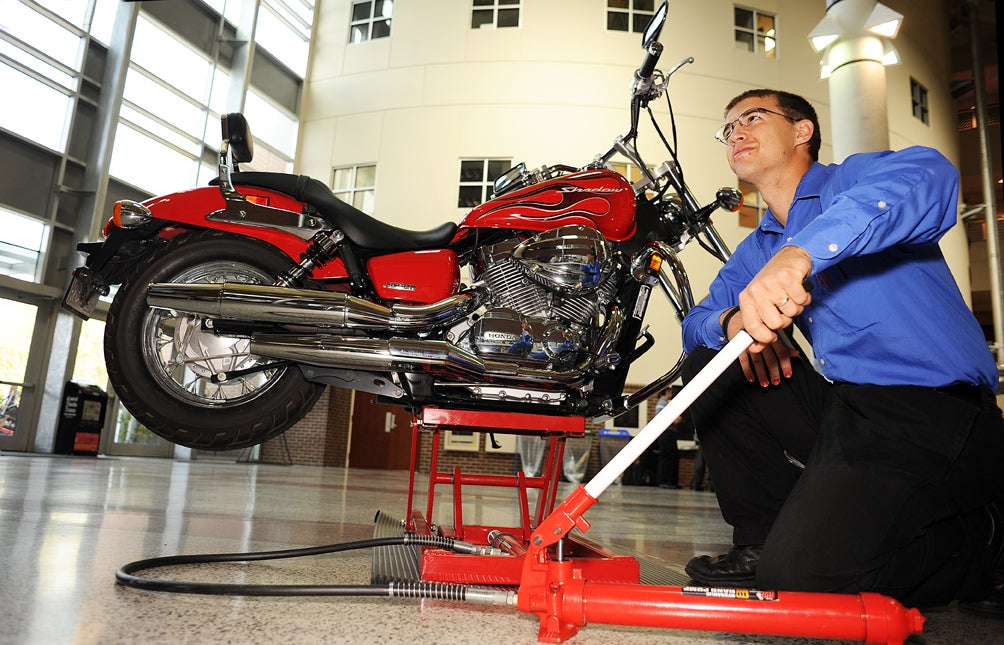 Rowe, who owns the bike, said it was his father's idea for the jack. "Before it took two people to change the oil because you needed someone to hold up one end of the bike," said Rowe. With the jack, one person can work on the bike without assistance.
The jack can hold up to 1,000 lbs and cost $260 to make. The team is also considering commercializing their project.
Each year engineering students show off their senior design projects based on what they have learned in their design classes. Under the supervision of Dr. Larry Chew, the students come up with ideas, plans and designs in their first semester of design class. In the second semester the students build, modify and test their creations.
Other senior projects on display included a passive water distillation system, solar energy storage and a wave power generator.