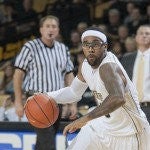 Marcus Jordan scored 20 points and reserve guard A.J. Rompza hit a deep 3-pointer with 3.8 seconds remaining, leading Central Florida to a 65-64 upset victory over Southern Mississippi on Saturday night.
The Knights (18-9, 5-9 Conference USA), who lost to Southern Miss by 17 points earlier this season, trailed almost the entire second half.
The Golden Eagles (21-7, 9-5), who dropped out of the conference lead, were led by guard R.L. Hornton, who had 20 points. Center Maurice Bolton had 15 points and six rebounds.
Michael Jordan, who comes to a handful of games each season to see his son Marcus play, watched from the president's box.
UCF took its first lead, 60-59, with 3:25 remaining when A.J. Tyler hit a 3-pointer. Its only other lead came when Rompza hit the winning shot.
Southern Miss led 33-25 at intermission after Horton hit a deep 3-pointer at the buzzer.
Source: ESPN.com, Copyright by STATS LLC and The Associated Press