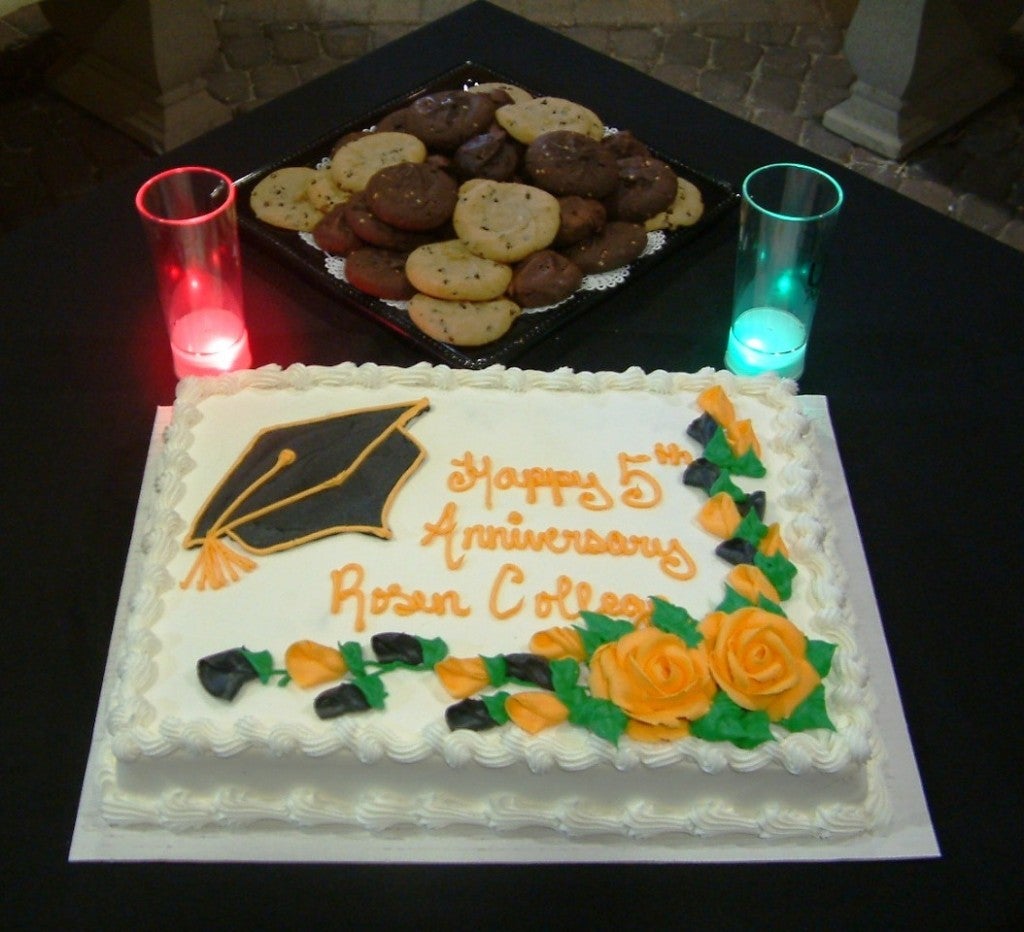 Just twenty-five years ago, UCF's Hospitality Management program was in its beginning stages. Only five years ago, the Universal Boulevard campus opened and Rosen was elevated to college status. Today, the Rosen College of Hospitality Management is the largest standing hospitality program in the world educating over three thousand students in five separate degree programs.
To celebrate this fifth anniversary of the campus and college, event management students from Professor Elise Enloe's class collaborated with the UCF Alumni Association's Rosen College Chapter. It marked the first partnership of its kind and culminated with a successful event held November 19, 2009.
The evening celebration took place in the Rosen College courtyard and was open to the college's students, faculty, staff and alumni. More than 50 guests were dazzled by student-designed décor of white lights, black linens and gold bows. The elegant atmosphere was accented by centerpieces donated by Dr. Kimberly Severt's class. The artistic creations of wood and flatware (traditional and contemporary fifth anniversary gifts) added flair and sparked conversation, as guests were invited to select their favorite centerpiece.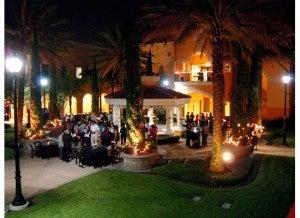 Welcome remarks were made from Dean Abraham Pizam and Mr. Harris Rosen, two key players in the college's history and present-day success. Guests enjoyed delicious beverages, passed hors d'oeuvres and anniversary cake, and were entertained by bingo, raffles, a silent auction, a pianist, and a magician. As souvenirs, guests received a UCF Alumni glass illuminated by LED lights.
The student-planned and executed Alumni Event was designed to cause reflection and initiate connection amongst guests. Today, Hospitality and Tourism Management is a vastly growing industry and it seems apparent why there are over 3,000 students enrolled at Rosen College and why it continues to grow at an excessive rate. We look forward to see where we are in the next 25 years.
Quick Time Line:
1979 – The Dick Pope Sr. Institute for Tourism Studies was established in UCF's College of Business Administration in honor of Dick Pope Sr., the owner of Cypress Gardens and one of the pioneers of Florida's tourism business.
1983 – Dean Abraham Pizam came on board and developed the Hospitality Management Program from the Dick Pope Sr. Institute for Tourism Studies.
1999 – Hotelier Harris and Trisha Rosen announced the donation of $18.2 million and 25 acres of land to establish a separate campus for the hospitality management program. Funding was matched by the State of Florida and additional funds were secured from corporate donors.
2000 – The program elevated to the status of a full school, and thus became the Rosen School of Hospitality Management.
2002 – Ground was broken at the site of the new campus on Universal Boulevard.
2004 – The $36.3 million campus opened in January; in May, the school elevated to the status of a college, and became the Rosen College of Hospitality Management.
Today – The Rosen College of Hospitality Management is home to one of the largest hospitality programs in the world; houses more than 3,000 students; offers three undergraduate degrees, a master's degree and doctorate degree; is comprised of world-renowned hospitality faculty and is in the top five most popular majors at the University of Central Florida, the third largest university in the nation.
For a complete history compiled by Tim Bottorff, Head Librarian, Rosen College Library, please click here.
By: Katie Skeba, Student and Jackie Toops, Rosen College Public Relations