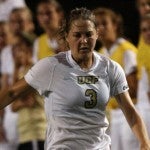 UCF women's soccer sophomore forward Tishia Jewell (Satellite Beach, Fla.) was voted by the league's coaches as the Conference USA Offensive Player of the Year Tuesday. The Knights also placed a league-high six players on the all-conference teams and had one selection to the all-freshman squad.
Jewell became the first Knight to be named the Offensive Player of the Year since UCF joined C-USA in 2005. In all, the Black and Gold has had five players in six seasons earn major awards in C-USA including Jewell. Courtney Baines (Defensive – 2005), Jennifer Manis (Defensive – 2007), Danielle Dos Santos (Newcomer – 2007) and Becca Thomas (Midfielder – 2009) also were honored as players of the year by the conference.
After a freshman year where she did not score a goal and had four assists in 21 matches, Jewell has burst onto the national scene in 2010. She ranks third in the country with 12 total assists and 12th with 32 points. She also has scored 10 goals this year to become just the fourth-different Knight to post at least 10 goals and 10 assists, a list that includes Michelle Akers who accomplished the feat twice.
Along with her prestigious award, Jewell was one of six Knights who grabbed a spot on the all-conference teams. UCF has now put six on the All-C-USA squads in each of the past two seasons.
Jewell joined junior midfielder Katie Jackson (Satellite Beach, Fla.) and junior goalkeeper Aline Reis (Campinas, Brazil) on the All-C-USA First Team this year. Its Jackson's first time as an All-C-USA performer, while it was Reis' second-straight season she was voted onto the first team. Jackson has scored six goals while adding six assists for 18 points, and Reis has recorded four shutouts, a 10-3-3 record and a 1.04 goals-against average in net.
Claiming spots on the All-C-USA Second Team for the Knights were senior forward Kim Newsome (Apopka, Fla.) and freshman defender Marissa Diggs (Rowlett, Texas). Newsome finished the regular season tied with Jewell for a league-high six goals in C-USA games, and she has nine goals and six assists for 24 points overall. And UCF's representative on the C-USA All-Freshman Team as well, Diggs came on strong in C-USA matches. Along with scoring two goals, she has started 13 matches in her first year at the Division I level and has helped the UCF defense post a combined 0.91 GAA and seven shutouts.
Capping off UCF's awards was sophomore defender Bianca Joswiak (Berlin, Germany), who received a spot on the All-C-USA Third Team for the second-consecutive season. Even though she serves as an outside back for the Knights, Joswiak has scored two goals and racked up seven assists for 11 points. Her six assists in league matches were second in C-USA behind only eight by Jewell.
The talented group of student-athletes helped guide the Knights to a 13-3-3 overall record, their fourth regular-season title in six years and a No. 1 seed in the C-USA Championship Wednesday-Sunday at the UCF Soccer Complex. UCF, which is ranked No. 23 by Soccer America, received a bye in to the semifinals and will take on the winner of No. 4 SMU and No. 5 Rice Friday at 7:30 p.m.
UCF's Conference USA Awards
Offensive Player of the Year
Tishia Jewell – F – So. – Satellite Beach, Fla.
All-C-USA First Team
Tishia Jewell – F – So. – Satellite Beach, Fla.
Katie Jackson – M – Jr. – Satellite Beach, Fla.
Aline Reis – GK – Jr. – Campinas, Brazil
All-C-USA Second Team
Kim Newsome – F – Sr. – Apopka, Fla.
Marissa Diggs – D – Fr. – Rowlett, Texas
All-C-USA Third Team
Bianca Joswiak – D – So. – Berlin, Germany
C-USA All-Freshman Team
Marissa Diggs – D – Fr. – Rowlett, Texas