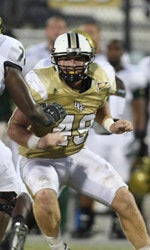 UCF defensive lineman and preseason All-American Bruce Miller (Canton, Ga.) is the subject of the profile section on Page 3 of today's edition Sporting News Today. The Q&A touches on a wide array of Miller's interests both on and off of the football field.
The nation's leader in both career sacks (27) and career tackles for loss (44), Miller has all ready been named to several preseason All-America teams.
Named the 2009 Conference USA Defensive Player of the Year, Miller made 13 sacks and 18 tackles for loss last year as a junior. A versatile end who also moved to tackle and played a three-technique in UCF's nickel package, Miller also was credited with seven forced hurries and three pass breakups last fall, helping the Knights lead C-USA in total defense, rushing defense, scoring defense, sack and tackles for loss. UCF was fourth in the nation last fall in rushing defense, topped only by BCS bowl participants Texas, Alabama and TCU.
Returning 17 starters from that team, UCF is a popular pick to win the C-USA East Division in 2010.
Link to Sporting News Today digital magazine. Miller is on page 3.