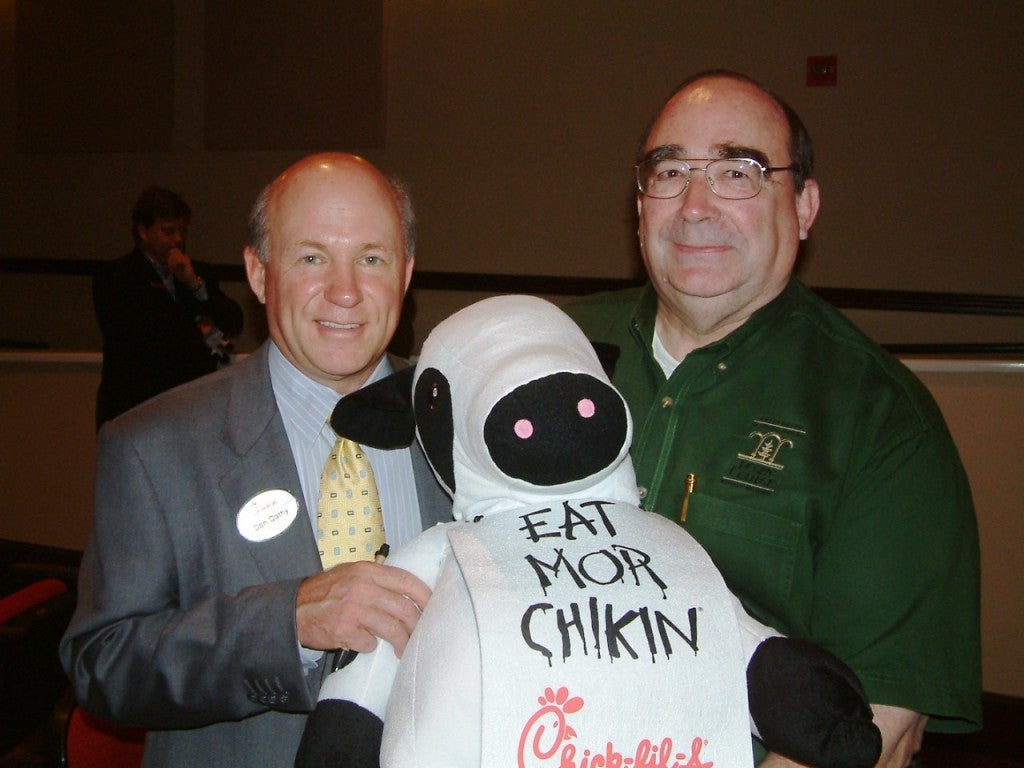 Chick-Fil-A's President, Dan Cathy, visited UCF's Rosen College of Hospitality Management on Friday, Oct. 30, to inspire future industry leaders and tell the tale of his father's, Truett Cathy's, incredible journey from a small restaurant to a national success.
Attendees were greeted by friendly character cows and received both a cow stuffed animal and a copy of Truett Cathy's book, Eat Mor Chikin: Inspire More People.
Mr. Cathy spoke to attendees on honest work principles and ethics passed down from his father. "If people are happy behind the counter, just wait and see what happens in front of it," said Mr. Cathy with a smile.
After his presentation, a panel of local Chick-Fil-A operators answered audience questions. The big one was tackled by Mr. Cathy – Why is Chick-Fil-A closed on Sundays? He explained that the tradition began simply because his father needed rest. Corporate Headquarters adopted this policy for all employees and as Mr. Cathy described, "the chicken always tastes better on Monday because we're closed on Sunday."
At the program's conclusion, guests lined up to meet Mr. Cathy for an autographed book or stuffed cow. In true Southern hospitality, guests were treated to delicious box lunches by the Rosen College fountain, compliments of Chick-Fil-A.
This event was hosted by the Florida Restaurant & Lodging Association's Hospitality Oriented Seminars & Training (HOST) Educational Series, and was free to members of the Florida Restaurant and Lodging Association, Orlando/Orange County Convention and Visitors Bureau, and students at UCF and Valencia Community College.