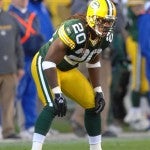 Three former UCF Knights, Josh Sitton, Atari Bigby and Michael Greco will continue their pursuit of the Vince Lombardi Trophy on Sunday when the Green Bay Packers face the Pittsburgh Steelers on Sunday night in Super Bowl XLV from Cowboys Stadium in Arlington, Texas.
Sitton and Bigby are expected to suit up for the Packers on Sunday and become the fifth and sixth Knights to play in a Super Bowl, joining Shawn Jefferson (Super Bowls XXIX and XXXI), Mike Gruttadauria (XXXIV), Cornell Green (XXXVII) and Asante Samuel (XXXVIII, XXXIX and XLII). Those players are a combined 4-3 in their previous Super Bowl appearances.
The final wild-card selection in the NFC this season, the Packers have won five straight games to advance to their fifth Super Bowl and first since Super Bowl XXXII when they fell to John Elway's Denver Broncos. Each of the Packers' three playoff wins have come on the road as Green Bay knocked off its ancient rival Chicago 21-14 in the NFC Championship Game on Jan. 23 at Soldier Field, the top-seeded Atlanta Falcons 48-21 in the Divisional round at the Georgia Dome and NFC East champion Philadelphia 21-16 in a wild card matchup at Lincoln Financial Field.
Sitton has started all three playoff games at right guard as usual. Against the Bears, he helped Green Bay to 356 yards of total offense and 34:04 time of possession to advance to claim the George Halas Trophy at Soldier Field. The Packer offense has been strong in the playoffs, including a franchise playoff record 48 points scored against Atlanta. He helped paved the way for 28 first downs, 442 yards of total offense and a remarkable 38:19 time of possession mark on the road against the top-seeded Falcons. Behind a stout offensive line where he was rarely pressured, quarterback Aaron Rodgers was 31-for-36 for 366 yards and three touchdowns in that game. Sitton's contributions followed another strong showing for the offensive line in the wild card round where Packer tailback James Starks set a franchise rookie playoff record with his 123 rushing yards.
During several interviews yesterday while accepting the NFL's Rookie of the Year award, Detroit Lions defensive tackle Ndamukong Suh called Sitton the best guard he faced all year.
Bigby was a game day inactive in both the Divisional and wild card rounds due to a groin injury but was back in the Packer lineup for the NFC Championship Game, contributing to Green Bay's win with his participation on the Packers' stout coverage units. Facing Pro Bowl returner Devin Hester, Chicago averaged just 15.8 yards on its four kickoff returns and 9.5 yards on four punt returns as Hester never could get free.
The postseason run continues a great regular season for Sitton who won the fan vote to start at guard for the NFC in the Pro Bowl but ultimately didn't earn a spot on the team. He was selected as an alternate for the showcase event but would not have been able to participate regardless due to the Super Bowl. Sitton has started every game for Green Bay this year. Bigby was a starter for Green Bay at safety in 2009 but was hampered by injuries for much of this season.
Including the playoffs, he has made six tackles and appeared in five games, contests where the Packers went 4-1 with the lone loss coming at New England. Greco has had two stints with the Packers' practice squad this year after being released by the New York Giants following preseason camp.
KNIGHTS IN THE SUPER BOWL
Shawn Jefferson, XXIX, San Diego Chargers, Lost to San Francisco 49ers
Shawn Jefferson, XXXI, New England Patriots, Lost to Green Bay Packers
Mike Gruttadauria, XXXIV, St. Louis Rams, Won vs. Tennessee Titans
Cornell Green, XXXVII, Tampa Bay Buccaneers, Won vs. Oakland Raiders
Asante Samuel, XXXVIII, New England Patriots, Won vs. Carolina Panthers
Asante Samuel, XXXIX, New England Patriots, Won vs. Philadelphia Eagles
Asante Samuel, XLII, New England Patriots, Lost to New York Giants
Atari Bigby, XLV, Green Bay Packers
Josh Sitton, XLV, Green Bay Packers
Note: Charles Lee was on Tampa Bay's injured reserve list for Super Bowl XXXVII and Michael Greco will be on Green Bay's practice squad for Super Bowl XLV.