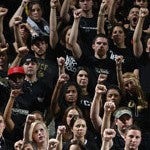 When the AP Poll is released next Monday, there's a chance that No. 24 Central Florida will move up in the polls and Michigan State – which suffered its fourth loss this season – may move out of them.
When informed of that scenario, former Spartan 7-footer Tom Herzog – who has become a key piece in Central Florida's shocking 11-0 start – could only shake his head in disbelief.
Herzog made a mistake five or so years ago when the former Top 100 player opted to stay close to home and play for Tom Izzo at Michigan State.
It just wasn't the right marriage.
Izzo's hard-nosed approach just didn't mesh with the cerebral Herzog, an applied engineering major who graduated in four years and is using his one year of remaining eligibility immediately after transferring to Central Florida.
"It's a totally different coaching style," Herzog admitted. "For some players, it works. Coach Izzo's obviously had great success, but it just wasn't the right style with me."
Knights coach Donnie Jones has taken the softer, warm and fuzzy approach of trying to build Herzog's confidence back up since he arrived and it's worked.
Both on and off the court.
Herzog, despite playing the past six games with a broken bone in his wrist, has scored 49 points this season. That's five more he put on the board in his entire Michigan State career.
He's also begun to come out of his shell socially and is far more outgoing than he's been in the past.
I first met Herzog years ago when I sat next to him on the same connecting flight to an AAU tournament and couldn't get more than a handful of words from him. Even when I'd see him at Michigan State, he blended into the background and was tentative to speak. However, Herzog wasted no time coming up to me after the afternoon shootaround and couldn't stop talking.
"The crazy thing is he's doing all this with one hand," said teammate A.J. Rompza. "Most people wouldn't even try and go out there."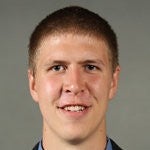 But Herzog isn't willing to miss any more time after being buried on the Michigan State bench for four years.
Herzog said X-rays showed the bone has finally healed, which means he'll soon be able to shed the brace he's been wearing since Dec. 1, when his play was pivotal in the upset against Florida.
Against UMass on Wednesday night, Herzog finished with six points, eight rebounds and five blocks – while altering several other shots – to help keep the Knights perfect.
"My head wasn't right in the first half," Herzog said after the game. "I was thinking about the wrong things – like staying undefeated and going home for Christmas without a loss. But then, in the second half, I had the right mindset."
And he was a difference-maker.
"Tom came in with low self-esteem," Jones said. "He needed to form his identity and where he fit into this team."
That hasn't taken long at all.
"He's impacted our team on a daily basis," Jones said. "With his work ethic and attitude."
"We're not where we are without him," Rompza added.
While his former team is struggling to find its identity, it's nice to see that Herzog appears to have found his.
Source: FOX Sports, THE FEEL-GOOD STORY OF FORMER MICHIGAN STATE BIG MAN TOM HERZOG, by Jeff Goodman