Ayan Desai was finishing his first full month as a freshman at UCF when he walked into the Pegasus Ballroom on a Friday evening. He'd heard about a cultural event called APAC (Asian Pacific American Coalition) Assembly and, as an Indian American, wanted to see it for himself. It sounded like the kind of college experience Desai hoped for when he was a high-school student in Okeechobee, Florida, and came across an online video of former UCF President John C. Hitt.
"In the video, he talked about UCF being a university that truly welcomed everyone, from any background," Desai says. "The message hooked me because I could tell President Hitt meant what he was saying."
That first APAC Assembly would be transformational for Desai. He stepped into the ballroom alone, but from that moment on, everything changed.
"Being there gave me a sense of belonging that I rarely experienced outside my own home…it sparked a confidence in myself." — Ayan Desai, UCF student
"I'd never seen anything like it," he says. "My family would go to Indian festivals when I was growing up, but the APAC event was a showcase of Filipino, Vietnamese, Chinese, Indian and other Asian cultures. People were dressed to represent their heritages. No one worried about others staring at them. But it was more than clothes and art. Being there gave me a sense of belonging that I rarely experienced outside my own home. In an interesting way, it sparked a confidence in myself."
Desai came away with so much confidence that a few weeks later he ran for student government. He would also become the first Asian American to lead UCF's Marching Knights as the drum major. Today, as a senior majoring in chemistry, he's completing his term as president of the very organization that opened his eyes: APAC, the umbrella student organization for 17 Asian and Asian Pacific student groups on UCF's campus.
"For me to talk about being a college dean or administrator someday," Desai says, "is something I couldn't have imagined growing up."
Desai enjoyed his family upbringing in Okeechobee, despite there not being a large community of Asian families. He lived in the 12-room motel his father's parents bought after they emigrated from India to Panama and then to Florida.
"It was an interesting living arrangement, but not unusual for people of Indian descent," says Desai, whose grandparents on his mother's side also ran a motel after immigrating from India to California. "All of my grandparents gave up everything when they left India. They love living in the U.S., but they would remind my sister and me to honor our heritage, to pass it on to future generations."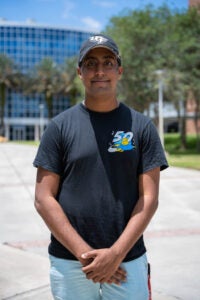 Desai and his sister would sometimes attend school events dressed in traditional Indian outfits. Other students thought it was great through about 8th grade. In high school, the responses changed.
"My classmates knew me for being smart and for being … different," Desai says. "As my sister and I got older, my parents would tell us to be proud, but to also be careful. It can be hard to find that balance."
Coming to UCF and being involved in APAC provided relief. He also realized that culture, including his own, is not limited to food on a fork or color patterns on a shirt.
"I'm a prime example of what happens in a student organization like APAC. A student shows up because of an interest in culture and realizes something there's something much bigger going on here."
Kaylee Duong experienced something significant during her first experience with APAC, too. However, she didn't come for a cultural event. She came to work. The group's president at the time asked Duong if she'd be interested in helping with public relations.
"I was involved with VASA [the Vietnamese American Student Association] and ASA [Asian Student Association], and made good friends easily through them," Duong says, "but as much as I loved the mission of APAC to bring people from each association together, I didn't think I had time to do PR for them."
Her pre-med workload was heavy. Yet it was nothing compared to the weight of her own expectations. Duong's grandparents had moved to the U.S. from Vietnam following the war there. The family didn't talk much about their hardships, but Duong carried the generational ambitions so common among her Asian Pacific American peers. She needed to excel and make her grandparents and parents proud.
"They are truly the most amazing people in my life," Duong says. "My parents sacrificed so my siblings and I could have better opportunities. They inspired my work ethic."
Duong's mother had been a nail technician before earning a degree from UCF in health sciences and entering the nursing field. Duong thought she should follow a similar path: go into pre-med, become a doctor, and privately manage the pressure along the way.
After initially resisting the offer to help with PR and marketing for APAC, she decided to make time for it. Just as APAC Assembly made a lifelong impact on Desai, the development of public awareness did the same for Duong. It stirred two transformations.
"APAC became my safe haven from stress. The more I got into the work, the more I realized how happy it made me." — Kaylee Duong, UCF student
"Working on the PR made me reflect on my own experiences, and on my parents' experiences coming to America. I began to recognize there's a depth to why we all think and act the way we do. It ties back to our culture. Unfortunately, there are stereotypes that get in the way of our own understanding of culture."
The second transformation came completely out of nowhere.
"APAC became my safe haven from stress," Duong says. "The more I got into the work, the more I realized how happy it made me. Public relations is about awareness. Marketing has a lot to do with perspectives. So, I changed my major to marketing. At first, it felt like I was giving up a dream, and then I had the tough conversation with my parents about shifting out of pre-med. But I told them there are so many ways to use marketing to help others."
Last year, Duong used her marketing skills to help organize a mental health workshop for Asian Pacific American students. They discussed the similarities of their struggles to perform at the highest level. And they also learned to appreciate their differences, because someone of Chinese descent might not have the same perspectives as someone of Filipino descent.
"We don't want to be used as a diversity card," Duong says. "The events are great avenues to invite people into APAC, but once you're in it you can connect to your identity and to others at a deeper level. It's introduced me to a new world."
Duong and Desai had no idea as incoming freshmen the impact APAC would make on them. As Duong's term as president begins, Desai's is coming to an end — but to him it's just a title.
"The people I've met through APAC are my lifelong friends," he says. "I haven't felt alone since the day I found them."