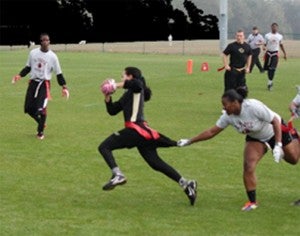 UCF's Co-Rec Flag Football team wins two national titles, while UCF's Men's Flag Football teams rolls through the Florida Gators for its second title in three years.
UCF's Men's and Co-Rec Flag Football teams racked up three championships over the winter break at two prestigious national tournaments: the American Collegiate Intramural Sports Tournament in Pensacola, Florida and the National Campus Championships Series Tournament at Texas A&M University in College Station, Texas. UCF Men's, Women's and Co-Rec Flag football teams have now won ten national titles since 1979; eight of those titles just in the past four years.
UCF's Co-Rec team "Women Lie Men Lie" outlasted Mississippi State 22-20 to win its second ACIS title since 2004. At the NCCS tournament, UCF's Co-Rec team continued their winning ways by defeating Angelo State 26-0 to win its third consecutive NCCS Co-Rec title. The UCF's Men's team "The Immortals" rallied from 13 points down to defeat the University of Florida for its second NCCS title since 2008. UCF outscored the Gators 35-6 down the stretch for the win.
Six UCF student officials were invited to participate in both tournaments, including Richard Shiller, Andrew Barnard, Andrew Cox, Brittney Shiller, David Weiland and Greg Sing. Barnard, Shiller and Weiland earned All-American honors. Since 2001, 19 UCF student officials have earned All-American honors.
UCF Intramural sports are part of UCF's Recreation and Wellness center, funded by the Student Government Association (SGA). Comprehensive programs like officiating and intramural sports are part of the RWC's mission to continually enrich campus life through programs that foster healthy lifestyles.
The Recreation and Wellness Center is an office in the Division of Student Development and Enrollment Services.