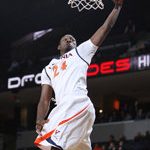 With players such as Will Barton, Joe Jackson and Chris Crawford roaming the perimeter, Memphis' backcourt will likely be touted as one of college basketball's best entering the 2011-12 season.
But don't be surprised if the frontcourt is pretty salty, too.
Tigers coach Josh Pastner couldn't have done a better job of using recruiting to address his team's needs. The third-year coach signed power forwards Adonis Thomas and Stan Simpson in hopes that both will make an immediate impact in the paint.
Thomas, a Memphis native, is the 17th-ranked player in the Class of 2011. Simpson is listed ninth in the junior college rankings. Along with being tenacious rebounders, both players can score at a high level, which is something Memphis didn't always get from Will Coleman, last year's hard-working senior.
Adding Simpson and Thomas to the rotation should make Memphis the overwhelming favorite to win Conference USA. Here is a list of other newcomers at schools from non-power conferences who should make their presence felt in 2011-12.
Tristan Spurlock, Central Florida, SF – Spurlock is a small forward, but a shortage of big men forced him to play in the paint at Virginia in 2009-10. Following the season he transferred to Central Florida, where he's expected to excel in Donnie Jones' up-tempo attack.
Adjehi Baru, Charleston, C – The 6-foot-9, 225-pound Baru is the 29th-ranked player in the Class of 2011 by Rivals.com. He's the highest-profile recruit ever to sign with Charleston. Baru plays with a high motor and has exceptional shot-blocking and rebounding skills. He picked Charleston over North Carolina, Virginia Tech and Maryland.
Gary Bell, Gonzaga, SG – Bell had offers from nearly every Pac-10 school but hardly hesitated when picking the Zags after his junior season. Bell was named Washington's Mr. Basketball at the end of the 2011 season and was also the state's Gatorade Player of the Year. At 6-foot-2, he's a tad undersized for a shooting guard but makes up for it with his prowess from beyond the arc.
Dezmine Wells, Xavier, SF – Known for always being in attack mode on offense, the 6-foot-5, 220-pound Wells already has the frame of an elite college athlete. He's a menacing defender who usually guards the opposing team's top player. If he improves his 3-point shot he could be an impact player at Xavier sooner rather than later.
Adonis Thomas, Memphis, PF – Tigers coach Josh Pastner beat out UCLA, Florida and Arkansas for Thomas, who projects as one of the better post players the school has seen the last few years. Thomas is a force on the boards and can pour in the points offensively.
DeMarcus Harrison, BYU, G – The Cougars beat out Clemson, Florida State, Wisconsin, Marquette and others for the services of the 6-foot-4 Harrison, a combo guard who boasts a level of athleticism that is rarely seen in Provo. Harrison attended the same South Carolina high school as Duke forwards Miles and Mason Plumlee.
Wesley Saunders, Harvard, F – The 6-foot-6, 205-pound Saunders is a Los Angeles native who is the 86th-ranked player in the Class of 2011 by Rivals.com. His high school coach said Harvard got a "steal" in Saunders, adding that he expected him to "dominate" his opponents in the Ivy League. Saunders is a versatile athlete who can play multiple positions.
Mike Moser, UNLV, F – Rumblings out of Las Vegas last season indicated that Moser, a UCLA transfer, was often the best player on the practice court for UNLV. Moser was the 92nd-ranked player in the Class of 2009, but he averaged just 0.6 points and 0.5 rebounds as a freshman in Westwood. Moser is a 6-foot-8, 195-pound forward.
Xavier Thames, San Diego State, G – Thames appeared in each of Washington State's 31 games as a freshman in 2009-10, when he averaged 4.6 points and 1.2 assists. San Diego State coach Steve Fisher had recruited Thames out of high school, so he was familiar with his game. The Aztecs lost senior guard D.J. Gay to graduation.
Keith DeWitt, Southern Miss, PF – The nation's fifth-ranked junior college prospect was supposed to be part of Missouri's 2009 recruiting class, but he failed to qualify academically. Dewitt, who is 6-10 and 220 pounds, runs the court extremely well and still has a huge upside. There are rumblings that DeWitt is seeking a release from his letter of intent so he can follow assistant Greg Heiar, who recruited him, to Wichita State.
Stan Simpson, Memphis, PF – Simpson (6-10, 235) and incoming freshman Adonis Thomas will give the Tigers the size they so glaringly lacked a year ago. Simpson played at John A. Logan College in Illinois last season.
Source: Yahoo! Sports, Top newcomers in non-Big Six basketball, by Jason King, May 29, 11:15 pm EDT
[Bold provided by UCF Today]