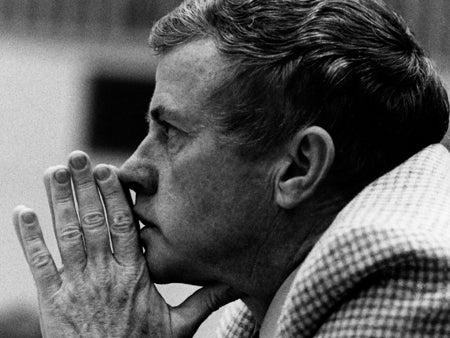 This past Spring, on Apr. 22 to be exact, University of Central Florida coaching legend Torchy Clark passed away at the age of 80.
While I didn't know Torchy well-or even a little bit, for that matter-the news of his death saddened me greatly. So much so, in fact, that it's taken me several months to finally put my thoughts of his passing on paper.
And even though my account of his life won't be nearly as good as those who knew him intimately, Torchy Clark means enough to me for at least an attempt.
I was lucky enough to play basketball under Torchy's son, Bo Clark, who has been the head coach at Flagler College for 23 years. Since Bo played for his father at the UCF, much of Torchy's passionate personality and quirky traits could easily be seen in Bo, a man I came to admire greatly.
My relationship with Bo, which continues today, has allowed me to indirectly understand Torchy as well as any outsider could, I imagine-through listening to stories, observing the Clark family interact with one another, and by reading articles and columns about the fiery coach.
As a college kid, however, I didn't fully understand the kind of man Torchy was-even though I pretended to.
He would make it to games occasionally, and he and his wife Claire would always meet us for a pregame meal when we traveled through Orlando, where the couple resided for many years.
He even came and coached us for one rather intense practice, which I can vividly recall to this day. It wasn't physically intense, but I remember my senses being so heightened that I was about to jump out of my skin. After all, the guy had won a few games in his day, so it was somewhat of an intimidating situation.
He called out a few of my teammates, challenged us, talked a great deal about how to press, how to properly throw and catch a pass, and to be honest about your own shooting range-things that often get overlooked in today's coaching.
But different phases of our lives don't allow us to see the full picture at times.
To my naïve and young 20-year-old brain, Torchy Clark was this obsessive coach wrapped up in the game of hoops-a wizardly, absent-minded professor of basketball knowledge who could crack some funny jokes.
A member of the Florida Sports Hall of Fame and Sunshine State Conference Hall of Fame, in addition to the Wisconsin Basketball Coaches Hall of Fame, Torchy is definitely not short on accolades. His list of accomplishments can fill pages.
But awards don't mean much to the Clark family.
What the Clark family stands for goes well beyond sports. Torchy Clark loved the game of basketball, and he loved coaching and teaching, but what ultimately drove him was his faith and his family.
This is a lesson we all need to be reminded of sometimes, and it is what resonates so strongly with me now as a 31-year-old husband of nearly seven years, father of a young son, and English teacher and basketball coach.
My family of three doesn't exactly match Torchy's five kids and 17 grandkids, but as any parent will tell you, kids change your life completely-and despite the lack of sleep, the daily frustrations, and all the other idiosyncrasies our children possess, they force us to find patience and love in ways we never knew we could.
Many coaches have attempted to document how to successfully infuse coaching and teaching with principles from parenting. John Wooden is one such man.
For years, I have admired Coach Wooden from a distance. His emphasis as a coach was not just on developing players' skills but on building his players into better people. To this day, he is a devout Christian, and he loves literature, two ideals he reinforced as a coach.
The concepts Wooden stands for are ones I hold dear to my own life, and so I have tried to live up to many of Wooden's credos.
But I've never been in the same room with John Wooden, heard his voice without the assistance of a TV, watched him interact with his children and grandchildren.
Enter Torchy Clark.
Like Wooden, Torchy Clark was also passionate about teaching; in fact, after his coaching career ended, Clark taught classes at UCF's College of Education, and the list of grown adults who list Torchy as influential is endless-and ranges from your next door neighbor all the way to Daunte Culpepper.
Even though he is no longer with us, Torchy Clark is more alive to me now than John Wooden will ever be.
Despite the fact that I've only known Torchy from a distance, his legacy has been passed down through his family-and eventually it made its way to me. I can only hope that in addition to my own family's faith and drive, that at least a speck of Torchy's life will be passed down to my son as well.
One of Torchy's former players, Brad Garvey, may have said it best with just a few words:
"The torch has gone out, but it will live on forever, that's for sure."
Amen.
Source: Bleacher Report, by Tim Pollock