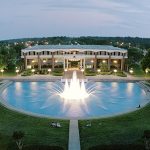 The University of Central Florida has established a new facility that provides therapy for individuals with aphasia — the loss of speech resulting from neurologic injury — thanks in part to an anonymous $25,000 donation.
Approximately 1 million people in the U.S., or one out of every 275 adults, have some type of aphasia, according to the National Aphasia Association. The most common cause is a stroke.
The Aphasia House provides speech-language therapy in a setting different from a typical medical office. Each room is outfitted to resemble a familiar space in a home, including a kitchen, garden patio and garage, and is designed to encourage natural conversations, according to a UCF release. UCF graduate students, studying communication sciences and disorders, will provide individualized and group therapy under the supervision of certified clinical faculty.
The facility is located in the Central Florida Research Park's Research Pavilion with the UCF Communication Disorders Clinic. The facility director is Janet Whiteside, a clinical educator at UCF and chair of the board of clinical educators at the UCF Communication Disorders Clinic.
An intensive aphasia program, which aims to increase clients' communication skills, will be conducted six times a year in The Aphasia House. Treatment is not free, but the facility takes Medicare and will work with participants to fill out the paperwork for reimbursement.
Source: Orlando Business Journal, UCF establishes new aphasia facility, July 14, 2010