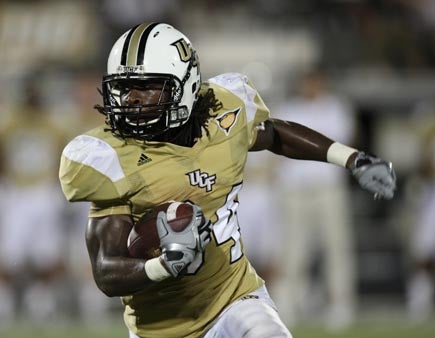 Second Half Success: With Brynn Harvey carrying the load, UCF continued a season-long trend by playing better in the second half. Coming out of the break trailing 7-3, and finding themselves down 14-9 late in the third quarter, the Knights scored the game's final 23 points to run away with their first Conference USA victory of the season.
UCF has not led at halftime in any of its five games this season. Including a 29-7 edge against Memphis, UCF has outscored its foes 83-39 in the final 30 minutes of games.
Including 156 yards on the ground, the UCF offense had nearly 300 yards in the second half alone on Saturday. The offense was not only impressive on the ground as senior quarterback Brett Hodges went 9-for-14 for 141 yards through the air.
Move The Chains: UCF was able to muster an offensive push against Memphis that Knight fans hadn't seen in two years. The team's 28 first downs were its most since having 30 at East Carolina on Oct. 6, 2007 and the 475 yards of total offense tonight were UCF's most since having 480 against UTEP on Nov. 24, 2007. That UTEP game at Bright House Networks Stadium was also the last time prior to tonight that UCF had over 200 yards rushing and 200 yards passing in the same game. Brynn Harvey's carries accounted for 12 of those first downs.
Push Them Back: One of the strengths of the Knight defense this season has been the team's ability to stop opponents behind the line of scrimmage. Coming into the game ranked 10th nationally in tackles for a loss, UCF added six more tackles for a loss Saturday, including 3.5 from junior defensive end Bruce Miller, who had 2.5 sacks.
Cattoi's Kicks: With his 4-for-4 performance Saturday, placekicker Nick Cattoi improved to a perfect 7-for-7 at home in 2009. Including two kicks from beyond 42 yards, Cattoi tied a school record with four field goals made.
Home Sweet Home: With their third victory in as many home games in 2009, the Knights improve to 11-5 all-time at Bright House Networks Stadium. UCF also now has seven victories in 10 games against Conference USA opponents at its new on-campus stadium, including all three of its conference home openers at BHNS.
Taming the Tigers: UCF improved to 5-0 against Memphis since joining C-USA. The Knights are 4-0 against Marshall and also have an undefeated 2-0 record against SMU since joining the league prior to the 2005 season.
A-O-Kay: Junior Ricky Kay had a career day on Saturday. Including a third-quarter touchdown catch, Kay tied a career-high with four receptions and finished with a career-best 52 yards. His touchdown catch was on a seven-yard pass from senior Brett Hodges and was Kay's first touchdown of the season and the second of his career.
Starting Fresh: Two true freshman, Kemal Ishmael and Quincy McDuffie, made their first career starts in the game. Ishmael, who started at free safety, made a career-high six tackles. McDuffie earned his first start at wide receiver and had one rush with 14 yards. The pair was joined by classmate Josh Robinson, giving the Knights three true freshmen in the starting lineup. Robinson added his first career interception in the fourth quarter and returned it 33 yards.
Moving On Up: Two weeks after coaching his 150th game as a head coach, George O'Leary was on the sidelines for the 67th time at UCF. The game moved him past Mike Kruczek (66 games) for second all-time in the program's history behind Gene McDowell (127). The win marked O'Leary's 81st as a collegiate head coach.
Special Recognition: Head coach George O'Leary selects a player from the offense and the defense each week as the team's captains. For Saturday's game, the captains were seniors Cliff McCray (offense) and Alex Thompson (defense). Coach O'Leary also tabs three members of the scout team as the players of the week. L.D. Crow (offense), Troy Davis (defense) and Ash Weekley (special teams) earned the distinction this week.