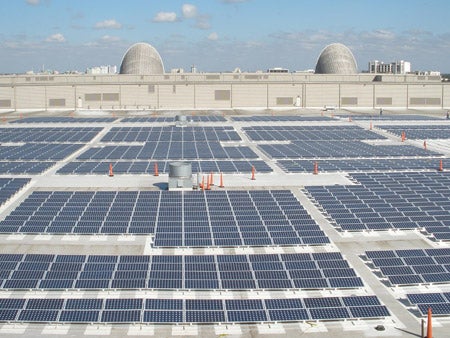 University of Central Florida leaders focused on sustainable energy opportunities for Florida at a recent statewide energy summit.
UCF President John C. Hitt welcomed about 300 business, education, community and political representatives and 25 UCF students to the event held July 8 at the Orlando World Marriott.
He emphasized three reasons why the state must invest in sustainable energy: because energy costs will rise even faster if don't; because energy security and economic sustainability depend on it and because Florida residents and visitors treasure the environment.
"Facing the unprecedented environmental and economic difficulties in our immediate and long-term future is critically important to the well-being of our state, nation, and world," Hitt said.
The summit was organized by a newly formed coalition of leaders, organizations and citizens called Citizens for Clean Energy. Incoming Florida Senate President Mike Haridopolos led the event and said that by bringing together experts on solar power, energy efficiency, jobs creation and technology he hoped to help the legislature develop fact-based alternative legislative policy.
MJ Soileau, UCF's vice president for research & commercialization, served on a panel on economic development and said that while he hears a lot of talk about the benefits of clean energy there is another aspect to the energy equation: the cost of doing nothing.
Electricity costs are projected to be 58 percent higher in 2020, he said. "We are missing a major economic opportunity if we don't work now to establish statewide policies that will encourage the development of sustainable energy sources."
More details about the event and information about clean energy alternatives can be found at www.citizensforcleanenergy.com