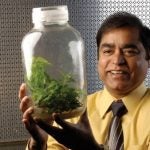 University of Central Florida officials said Wednesday that the Bill and Melinda Gates Foundation gave professor Henry Daniell a two-year, $761,000 grant to develop a polio vaccine.
Daniell has spent the last 20 years genetically splicing tobacco and lettuce plants to grow vaccines. As part of the grant, Konstantin Chumakov, the associate director of the Center for Biologics Evaluation & Research at the Food and Drug Administration, will be a collaborator on the grant.
Chumakov will start developing the protocols that could be used for drug companies to get FDA approval to use vaccines made from the genetically engineered plants. Vaccines created from genetically spliced plants are cheaper and easier to make than traditional vaccines.
"It really opens up a whole new world for developing vaccines," said UCF spokeswoman Zenaida Gonzalez Kotala. "[Daniell] is setting up the protocol for how another company could do this."
Source: Orlando Business Journal, UCF researcher gets $761,000 grant, by Abraham Aboraya, Staff Writer. Date: Wednesday, May 4, 2011, 10:00am EDT