It's getting hot in the hoop houses at UCF as students grow peppers for the Department of Biology's Plant Breeding Initiative (PBI). Hoop houses are tunnel-shaped solar greenhouses that are constructed from steel frames and a plastic covering.
Launched in Fall 2019 with a vision to create a living classroom built around growing plants, the PBI offers more than. tasty pepper. It provides a low-risk, entry level introduction into experimental science and teaches students the fundamentals of applied plant science. PBI founding member and biology doctoral student Hannah Stanford '20 describes the research project as an opportunity for undergraduate students to explore an interest in plants.
"It's been incredible to witness the fruits of our labor, both literally and figuratively," Stanford says. "It takes dedication, but it's very much worth it."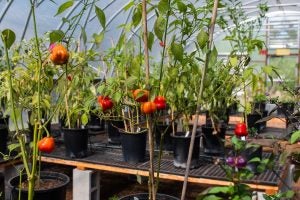 When the PBI was launched several options were proposed based on traits including their ability to grow in Florida, as well as nutritional value and cultural and historical importance. Peppers were chosen because they display a wide range of colors, shapes and textures, and are easy to grow and breed.
Biology sophomore Alina Makarenko joined PBI to gain more hands-on experience and research techniques.
"Doing the genotypes, phenotypes, and looking after the peppers connected me to present and past courses," Makarenko says. "I found myself more immersed in what I'm learning in the lectures because I was able to later apply it in the field."
PBI received two Student Research Grants from the Office of Undergraduate Research to help the project grow. It is a collaboration between the Botanical Society of America's UCF chapter and the Mason Lab led by Assistant Professor of Biology Chase Mason.
There are more than 90 different varieties of peppers in the hoop houses, ranging from Chile to India with each one a different size, color, and heat variation. Members grew 92 accessions of peppers to the seedling stage and sampled tissue for genotyping.
Students have analyzed trait-linked genetic markers to identify the presence of specific hard-to-assess traits like pest and disease resistance. From there, members begin crossbreeding select peppers. This involves choosing two plants — ideally within the same species — with one "male parent" that serves as the pollen donor and the other a "female parent" that is an unopened flower. The undeveloped male parts of the female flower are then removed carefully to avoid damaging the plant ovaries. From there, pollen is dusted from the male parent onto the female parent.
Biology junior Anisa Khalid compares her work at PBI to exposure therapy.
"We're exposed to all these biology terms, and you're fully immersed in the plant breeding process," she says. "I find it much it easier reading a paper on pepper breeding now that I have had hands-on experience with the actual process."
PBI also intends to collaborate with a professional plant breeder to breed disease resistance into the Dátil Pepper, a culturally significant pepper in the St. Augustine, Florida, community.
Biology senior Kevin Pucci says in some ways he prefers completing a project in Hoop House over a good test grade.
"Not to say that I wouldn't be satisfied with a good test grade, but I do prefer a more practical approach. And I never really had an opportunity until now," Pucci says.
Students from all majors and fields are encouraged to join the Plant Breeding Initiative with no experience necessary. While the focus is on teaching biology fundamentals like phenotyping and genotyping, Stanford points out students are also developing skills like problem solving that transcend disciplines.
"It's an incredible opportunity for undergraduates to gain these skills now so that they're ready for the future," Stanford says.