College students, parents of elementary school students and local schools and businesses have joined forces to protect children as they walk to school this year.
The Walking School Bus, a national project that has its local base at the University of Central Florida's Center for Public and Nonprofit Management teamed up with Lake Sybelia Elementary in Maitland, Eagle's Nest in Orlando's Metro West, Robert Louis Stevenson School of the Arts on Merritt Island and the Soldiers to Scholars program to help school children get to school safely.
Each program was tailored to meet the school's needs. UCF students mapped the route, presented the program to parents and helped launch the walking program at Stevenson, for example, while UCF is conducting research about the benefits of walking for the second-year program at Sybelia. At Eagle's Nest, UCF helped volunteers from the non-profit Soldier's to School organization get the program rolling. Parents and community members have responded with volunteers and enthusiasm.
"This is a program that is good for kids and brings communities together," said Tim Pehlke, the center's assistant director for the program. "We're hitting very important areas – safety, health and even helping the environment."
Administrators at Stevenson Elementary, a school of choice in Brevard County, were looking for a way to help alleviate potential traffic problems when budget cuts eliminated buses to the school.
The school sits next to Kelly Park, and Principal Michael Corneau thought he could somehow use that park to help offset traffic while keeping students safe. That's when he connected with the Walking School Bus.
"It is a great opportunity because we hit the challenge on many different levels," he said. "It's great for kids to get the chance to walk. Parents don't have to sit in – shall we say – a challenging car loop, and with the volunteers we keep the kids safe from point A to point C."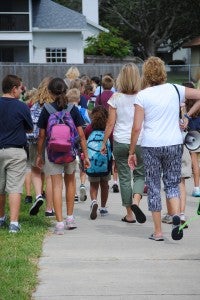 Ten parent volunteers line a pathway from a drop off point in Kelly Park to the school's back fields. There, school staff members meet the children and walk them to the main campus. Heavy backpacks, musical instruments and other large items are loaded into a golf cart that is driven to the school so children don't hurt their backs on the ¾-mile walk. Local business IAP Worldwide Services donated the cart when its owner heard about the program. The principal hopes to recruit more volunteers from the community as the year unfolds.
"The UCF students made the presentation to my parent group," Corneau said. "Then we pitched it before and during registration. We started with about 10 students on day one, and this week we have about 85. The kids love it because they get to hang out with their friends on the walk. The parents love the ease and I like it because I know my kids are safe, getting some exercise and we're being good neighbors."
At Lake Sybelia, UCF is helping by monitoring the walking and conducting some research to see the impact it can have on children's health.
"It is a wonderful opportunity for our student to get exercise and get the wiggles out before the school day begins," said Lake Sybelia Principal and UCF alum Julie Paradise. "We highly encourage it."
Lake Sybelia has two routes starting in different neighborhoods. About 15-20 students participate in each route with three to six escorts. One parent usually pulls a little red wagon piled with backpacks so the walkers can proceed unrestricted, Paradise said.
In Orlando's Metro West, UCF is helping the volunteers from Soldiers to Scholars. The organization helps veterans get four-year degrees while the veterans help their local communities by volunteering for different projects. The Walking School Bus was a perfect fit. Volunteers from Soldiers to Scholars meet at an apartment complex on Kirkham Road that is home to many school children. Together they walk the mile and half to a park near the school. From there they watch the children walk through the school's front doors.
UCF mapped the route, provided reflective vests and whistles to the soldier volunteers, and helped spread the word about the program. There are about 35 students who make the walk each morning and afternoon.
"We're just getting started," said Thomas Bryer, the director of the center for public and nonprofit management at UCF. "We have plans to add 20 more schools by 2014 in Brevard, Flagler, Lake, Marion, Orange, Osceola, Seminole, Sumter, Volusia counties."
The UCF team is already in discussions with several schools, and UCF students in an urban and regional planning class are busy mapping out potential routes in those areas so they can be ready to go once agreements have been reached. The routes are being mapped with safety features in mind such as: availability of sidewalks, width of sidewalk, distance between street and sidewalk, speed limits on streets, and speed mitigation/traffic-calming devices such as speed bumps. Funding for the Walking School Bus is provided by several grants including money from the Florida Department of Transportation.
"It's a feel good project that really has no losers," Pehlke said. "I mean, we're keeping kids safe from getting hit by cars and strangers, we're helping them get their exercise and we're helping the environment by giving parents a good option to driving to school. Who can be against that?"