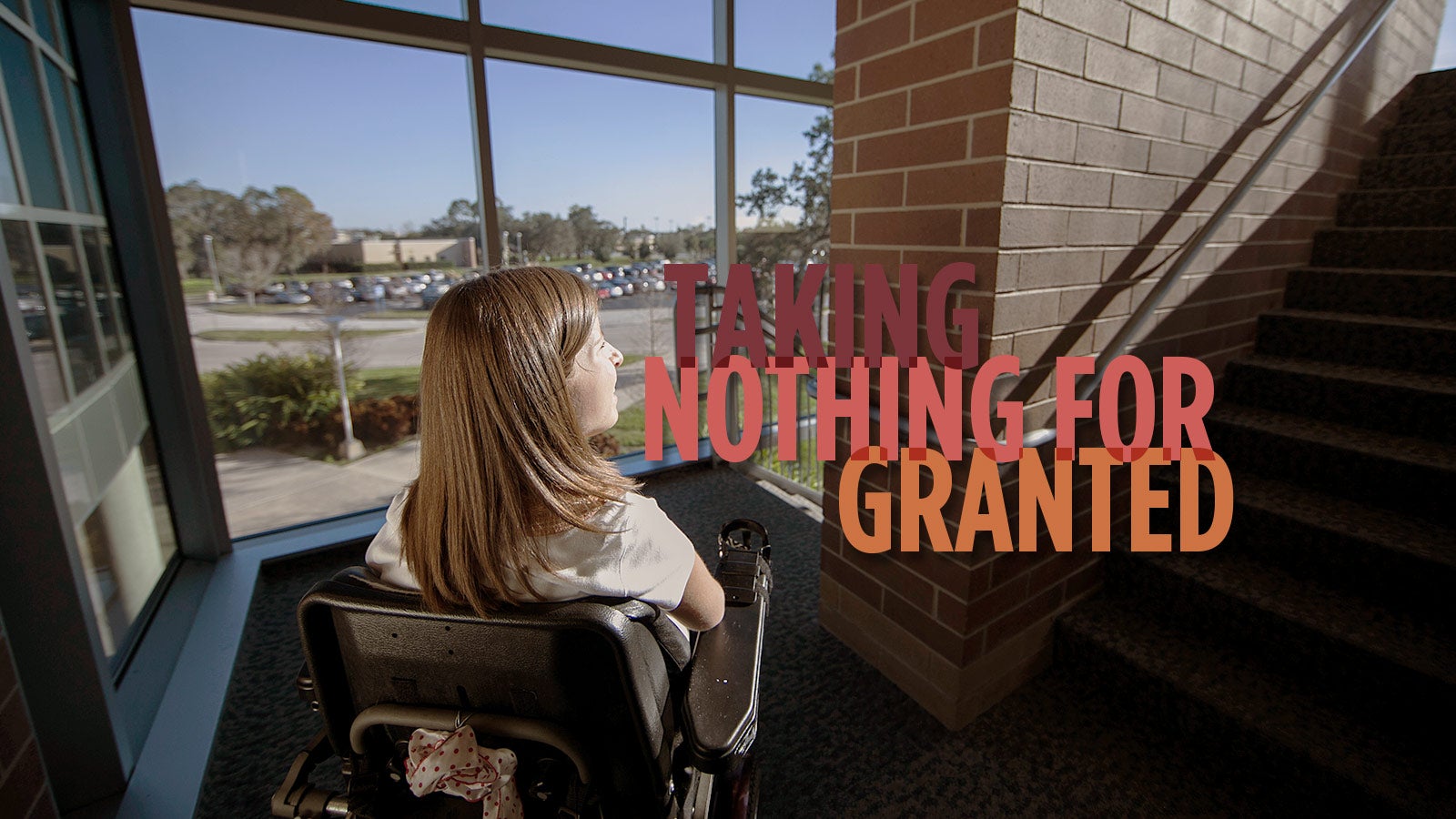 Disabled Students Overcome the Challenges of College
Meet three undergraduates who are determined to earn their college degrees.
Spring 2014
A siren interrupted Mary Mann's diversity class. The fire alarm flashed as students rushed for the second-floor stairwell in the Health and Public Affairs Building. In her motorized wheelchair, Sarah Goldman didn't move. The elevator — off limits during a fire — offered no escape.
"I started to panic," recalls Goldman, who was born with a form of cerebral palsy called spastic quadriplegia. "I thought everyone would leave me." Fortunately, a few friends stayed behind.
"What do I do?" Goldman asked her instructor.
"I don't know," said Mann, '04.
In search of an answer, Mann and Goldman headed for the second-floor department office. "We were told that it was just a drill," says Goldman. Associate Dean Melvin Rogers and a safety officer outlined fire safety protocols. They took Goldman to the stairwell where she would need to wait for emergency responders. When the drill ended, Mann returned to class and posed this question to her students: "Did you even consider how Sarah would get out of the building?" Some students were silent; others broke down in tears. "It was very powerful for them," the School of Social Work instructor remembers. "They hadn't even thought about it."
Goldman, a senior, has found that her college experience has often led to faculty and fellow students learning about what college life is like with a physical disability. Students like her face a range of challenges in higher education, from getting around campus to simply being acknowledged by their teachers and classmates — and even securing the medical care that enables them to stay in school. Goldman and her peers are determined not only to overcome these problems but to help those with similar difficulties succeed.
"Until you make people aware of issues," she says, "nothing can be done."
Increasing Opportunities
Around the country, colleges and universities have provided greater access to higher education to students with disabilities since President George H. W. Bush signed the Americans with Disabilities Act in 1990. In 2012, UCF's Student Disability Services (SDS) reported that 131 students with disabilities registered to graduate, a record high. SDS assists about 1,100 students with a wide range of disabilities — from physical to emotional to cognitive. The most common support includes academic accommodations for classes, such as arranging for sign-language interpreters, recruiting note-takers, and helping students find alternative formats for course materials.
Because they aren't required to register with SDS, keeping track of the number of students with disabilities is a challenge. Sometimes students with hidden disabilities — such as attention deficit disorder, dyslexia or deafness — choose not to disclose their disability.
"About 5 percent [of students with disabilities] will contact the office," says SDS Director Adam Meyer. "We should be working with 2,000, maybe 3,000 students."
Navigating Obstacles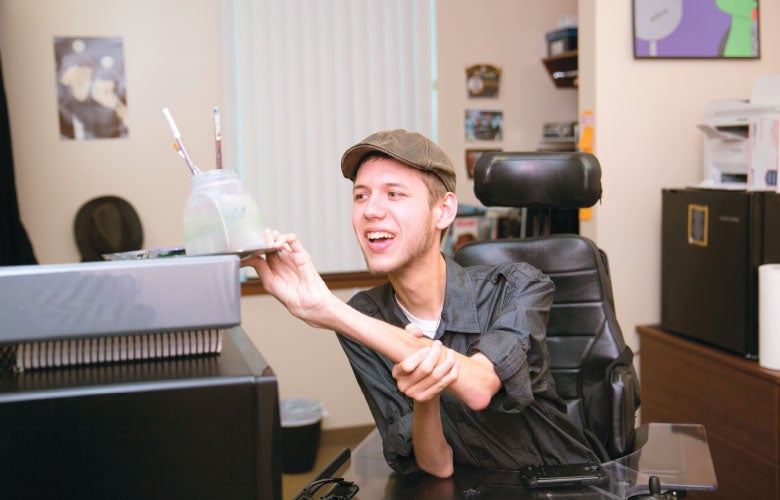 I got halfway [there] and had used half my [wheelchair] battery life.

Ben Carpenter, UCF engineering student
On move-in day at UCF's Neptune Community, engineering student Ben Carpenter was told his room wasn't ready. Workers were still putting the finishing touches on the brand-new building as hundreds of other students set up their rooms.
"[The workers] came in, put a handicapped button in the door, and wired it up to the emergency power," says the freshman, who was born with spinal muscular atrophy and uses a motorized wheelchair. "It's been a great experience."
Carpenter says that UCF is one of the first places he's encountered where all of the accessible buttons function on buildings. Despite such accommodations, a university community as large as UCF creates added challenges for students with physical disabilities. During his first semester, Carpenter needed to return a textbook to an off-campus bookstore. "I got halfway [there] and had used half my [wheelchair] battery life," he says. "It was the first time I had to account for whether I would have enough battery life for my wheelchair."
In a campus population where most have little comprehension of his everyday challenges, Carpenter feels at home in the classroom. He says that faculty and students have treated him like anybody else.
"We were painting in my applied design class," he recalls. "My hands shake quite a bit, so my paintings take on a more impressionist style."
Carpenter was initially nervous when his instructor offered feedback on the assignment, but surprised by the evaluation. "[My professor] told me that one of the best painters he'd had in class was a kid with cerebral palsy. He said my work is never going to look like anybody else's, and that was my style."
Still, not all instructors are as accommodating to students with disabilities.
"[A student] needed closed captioning on a movie, and the professor didn't know how to do it," Goldman says. "The professor tried to fidget with YouTube for a few seconds and said, 'That's it.' He walked to the back of the room, sat down and opened a bag of chips."
Says SDS's Meyer, "Many faculty want to be inclusive but don't know how to go about it. There was an external review of SDS operations, and faculty didn't feel they were receiving enough knowledge." In response, the department began a series of presentations and outreach events on teaching students with disabilities.
"Faculty members want to do the right thing," says Meyer. "Most often I don't think they are intentionally trying to frustrate or embarrass a student. It is more of an awareness of how to appropriately engage students with disabilities."
Accepting Differences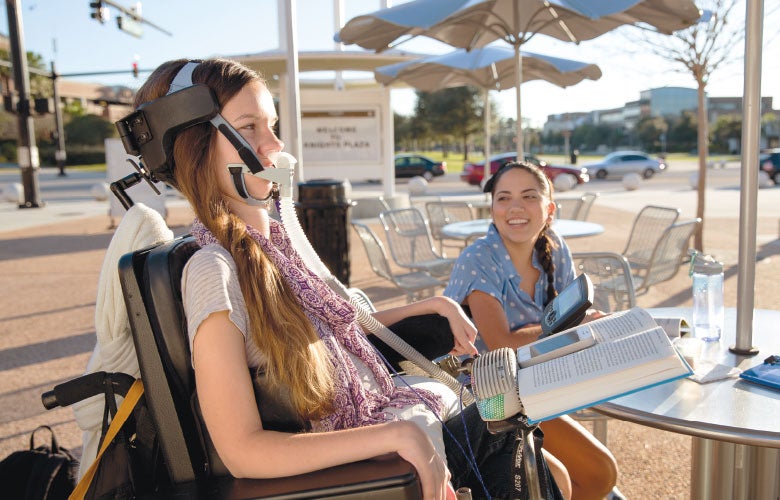 Dressed in blue jeans and a beaded shirt, Jordan Stroman sat in her wheelchair at a table at Duow restaurant. A group of about 50 young adults began taking seats for a Sunday night church service, held in the dining room.
"Hey Jordan, how are you?" shouted Stroman's roommate, Heather Hocstedler. To hear her whispered response over the din, Hocstedler picked up a speaker on the table and held it to her ear. Stroman responded to her roommate through a microphone connected to the speaker, a method she uses to amplify her whispery voice.
Sixteen years ago, Stroman was a typical, active 6-year-old. She played soccer and took swimming and ballet lessons. Then her parents noticed something strange about the way she walked and ran. Diagnosed with neuromuscular myopathy — a form of muscular dystrophy — her muscles weakened, and eventually she needed a Bipap, a medical device that pushes air into her lungs. As her condition worsened, she was left with only slight movement of her hands. Today, she uses her left finger to control a computer mouse to type on an on-screen keyboard — one letter at a time. "I went from being able to do everything to watching all my friends do things I couldn't," says Stroman.
"I used to be very self-conscious of the fact that I look different from those around me. It consumed me and brought me down. Eventually, I reached a point where I realized that my joy doesn't have to be dependent on my circumstances. I am free to be myself."
Going to college — like a lot of other people her age — was a big part of that transformation. At UCF, Stroman found friends through Campus Crusade for Christ. "Never in my life have I been blessed with such deep and intentional friendships," she says.
But with just three months until her 21st birthday, the college junior learned that Medicaid would reduce her 24-hour, six-days-a-week nursing care to 16 hours per day. Without continued full-time assistance, Stroman would have to abandon her studies and return home.
"It was really frustrating to know that everything I've been working toward for the past three years could be pulled out from under me because of an illogical policy," says Stroman. "I knew it was something I was going to fight. Not only would I have been missing out in my education, but I had built a life here in Orlando."
Stroman decided to share her situation. Her friends and classmates Chris DiDonna, '11, Tanner Hodges, '13, and Stephanie Gamble helped her build a website, create an online petition and produce video testimonials telling her story. They dubbed the campaign 21 Disabled.
"Disabilities and illnesses that once caused hopeless situations are not affecting people in the same way now. Technology has afforded us new solutions," Stroman wrote on her blog in a plea for support. "Unfortunately, insurance companies, as well as state and federal programs, have not kept pace. We are left fighting to continue our care … Just because I turn 21 does not mean my need for nursing care services is any less."
When an anonymous visitor to the site posted her video on Reddit, a popular Web content sharing site, support increased. The petition at change.org received more than 6,000 signatures, and the online video was viewed more than 70,000 times. Two weeks into the campaign and a few days before her 21st birthday, Stroman found out that she would receive round-the-clock personal care assistance through Medicaid's Aged and Disabled Adult Waiver.
"When we heard the news from Medicaid, I wanted to cry," Stroman says. "I was going to be able to finish what I started."
Stroman plans to graduate this semester with a B.A. in digital media. She hopes to find a job in Web or graphic design and wants to continue fighting for disability rights. "Jordan's one of the most brilliant people I've met," says her friend DiDonna. "With her one finger she designs incredible art. I realize that life is so difficult for her, but she still pushes forward."
"I know that many people face challenges when it comes to getting an education — financially and circumstantially," says Stroman. "Something I realized throughout this whole process is that the opportunity for education is such a gift. I hope my experience can be a reminder not to take these things for granted."
Advocating for Others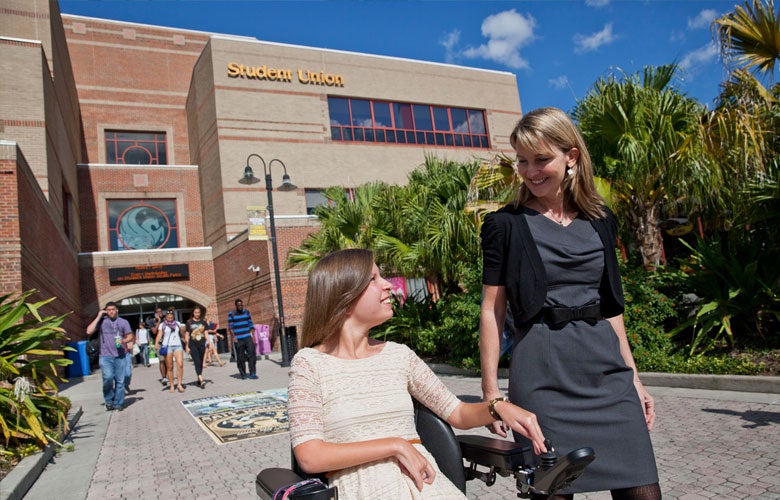 At the front door of the Key West Ballroom in the Student Union, Sarah Goldman greeted attendees for a panel discussion titled "What's Your Ability?" The event, evolved from a conversation between Goldman and a friend, featured five students with disabilities sharing experiences of barriers and biases they have encountered in college. About 60 university administrators, faculty and students attended.
"I would have been happy if five people showed up," Goldman says.
By sharing her personal experiences, Goldman has opened the minds of her fellow students and inspired action. After Goldman spoke to a social work policy class, Mann says that those students jumped on the opportunity to create a coalition to advocate for peers like Goldman. The resulting campaign, S.A.R.A.H. (Student Advocates Reaching for Awareness and Hope), culminated with a trip to Tallahassee where students spoke with legislators.
"It was a great way for the students to learn to create the coalition, how to advocate and understand that change takes time," says Mann. "And that first of all, you have to understand what the issue is and how you are going to define it depending on the political climate. We can go in there and say, 'This is wrong and this is unfair,' but instead they decided to look at it from a fiscal perspective, which was very smart."
"Sarah humanized these issues," Mann adds. "[Legislators] found it is more lucrative to the state to invest in students who can then give back and be self-sufficient."
"I feel like the voice of people with disabilities is often silenced," Goldman adds. "I want to be a voice for people in my career."
This semester, she will complete her undergraduate degree in social work with a final internship at United Cerebral Palsy of Central Florida. She has been accepted to Florida State University to continue her studies toward a master's degree in clinical social work. Goldman's fire drill experience prompted the College of Health and Public Affairs to examine its fire safety procedures for assisting students with disabilities. She hopes that the school will move toward adopting practices already in place at the Student Union, where an evacuation chair was installed to help students with physical disabilities during emergencies.
"People with disabilities are, first and foremost, people," Goldman says. "We want to get jobs and get married and live away from our parents. Our dreams are not any different."