Starting Points
When touring UCF, your first stop is the Duke Energy UCF Welcome Center. From there you'll become familiar with Millican Hall, the center of administrative activity. It's easy to spot this building because UCF's most iconic landmark — the Reflecting Pond — is right behind it. Another major building you'll learn about is the John C. Hitt Library.
Heart of Campus
Known as the Heart of Campus, the Student Union is a hub of student resources, activities, student spaces and dining options. These offerings and more can also be found throughout the breezeway in the John T. Washington Center. Behind the Union is the Boardwalk, a scenic walkway through cypress trees that connects you to other places you need to be on campus.
Recreation and Academics
Close to the Lake Claire Apartments is the Lake Claire Recreation Area, where you can take advantage of picnic facilities, water activities and sand volleyball courts. UCF's fraternities and sororities thrive on Greek Park Drive, where chapter houses line the street. In the Burnett Honors College and nearby academic buildings, students can find support while pursuing their passions.
Athletics Village
Athletics Village is home to Addition Financial Arena, Knights Plaza and Spectrum Stadium, where you can enjoy game-day activities, shopping and dining. Nearby is Memory Mall, which is the main tailgating spot on campus. Beyond athletic events, these spaces host some of the other biggest and most exciting gatherings at UCF, including concerts, convocation and commencement.
Health and Wellness Resources
Whether you want to volunteer on campus or are in need of food and basic necessities, Knights Pantry can help. The Student Health Center can assist with physical health needs, while Counseling and Psychological Services is here to support your mental well-being. If you're ever looking for place to relax in nature, the Arboretum has 82-acres for you to enjoy the outdoors.
Housing, Fitness and Safety
Fitness novices and experts can test their limits on the outdoor Challenge Course and in the 150,000-square-foot Recreation and Wellness Center. Students of all class standings live in the Neptune, Nike and Hercules housing communities behind the RWC. Close to these communities is the UCF Police Department, which keeps everyone on campus safe.
Want to check out campus now?
Our campus tour videos can help give you a preview of what to expect at UCF, but there's nothing like seeing campus for yourself. From giant gathering spaces like Spectrum Stadium to quiet study break spots like the Burnett Honors College's Meditation Garden, there's plenty to see and do at UCF. We hope to meet you soon!
Schedule a Visit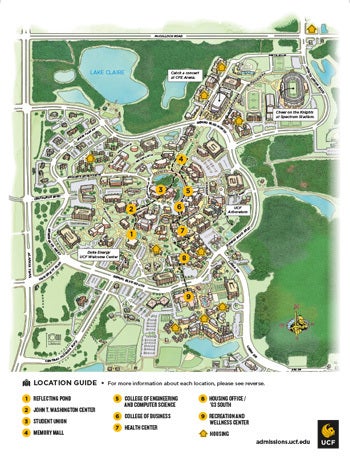 Self-guided Campus Tour
Want to explore campus on your own? This tour begins in front of Millican Hall at the Reflecting Pond, and it concludes at the Recreation and Wellness Center. There are 10 stops on the self-guided tour.
Download the Self-Guided Tour Map