Greetings from the Office of Undergraduate Admissions at the University of Central Florida.
These are the important announcements from UCF for the month of November:
Admitted freshmen students can now apply for on-campus housing on the Housing & Residence Life website. Floorplans, costs, and virtual tours are also available on housing.ucf.edu. Preferences are assigned based upon the date a student completes their housing agreement, so the earlier a student applies, the more likely they are to receive one of their top choices.
Review for Merit scholarships will begin soon. Merit scholarships are awarded by the Office of Undergraduate Admissions and are based primarily upon high school GPA and SAT or ACT scores. All admitted FTIC students will be considered for merit scholarships; no application is necessary. Students who are awarded will be notified by mail and must accept their scholarship on myUCF.
Our Top 10 Knights initiative rewards Florida high school students who rank in the top 10% of their graduating class with a guaranteed offer of admission. The application deadline to be considered for Top 10 Knights is January 15, and eligibility details are available at ucf.edu/admissions/undergraduate/toptenknights/.
December 1 is UCF's FAFSA priority application deadline. To be given the greatest consideration for financial assistance, student should complete the FAFSA no later than Dec. 1. Additional information is available at finaid.ucf.edu.
Finally, it's with a tinge of sadness, but immense appreciation that we announce the retirement of UCF's President, Dr. John C. Hitt. Dr. Hitt arrived at UCF in 1992 when our enrollment was 21,000. Today, UCF is one of the largest universities in the United States, with more than 66,000 students. During President Hitt's 25-year tenure, UCF has undergone tremendous growth – in student quality and diversity, in breadth and depth of programs and research, in national and international prominence, and in impact – to our community and to the State of Florida. Dr. Hitt will officially step down on June 30, 2018. If you would like to leave a note for President Hitt and his wife Martha, you can do so on UCF's main Facebook page, facebook.com/ucf.
Thanks for your support of UCF. Have a great day, and GO KNIGHTS!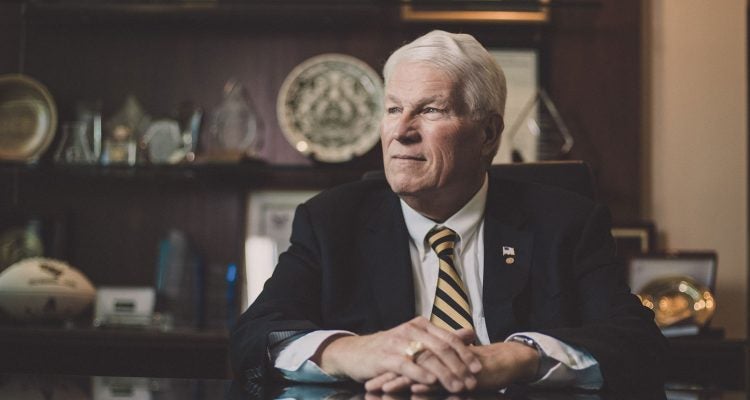 Dr. John C. Hitt will retire as President of UCF on June 30, 2018