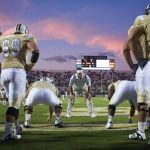 One lucky fan at Saturday's big game against East Carolina will be Bright House Networks Stadium's one-millionth fan since the venue's opening in 2007.
Heading into Saturday's 3:30 p.m. showdown, the total home attendance over nearly four seasons at UCF's new on-campus home stands at 968,073. Who will be fan number 31,927 on Saturday to make an even 1,000,000?
Bright House Networks Stadium has seen a million faces in its young history and it has seen some very big games but few more important that Saturday's tilt between UCF (3-0 in C-USA) and ECU (4-0 in C-USA) the winner of which will clearly be in the driver's seat to host the Conference USA Championship Game on December 4. It is the latest that two teams which are undefeated in C-USA play have faced off since the 2003 season and will pit UCF's elite defense against one of the country's top passing attacks in ECU.
UCF's million fans have generally gone home happy as the Knights are 17-7 all-time at Bright House Networks Stadium and 12-3 against C-USA teams. Win or lose, one fan will go home extremely happy on Saturday. The lucky winner will be selected during the first quarter, and UCF's prize patrol will seek the person out in the stands to have a formal presentation of their UCF-themed prize.