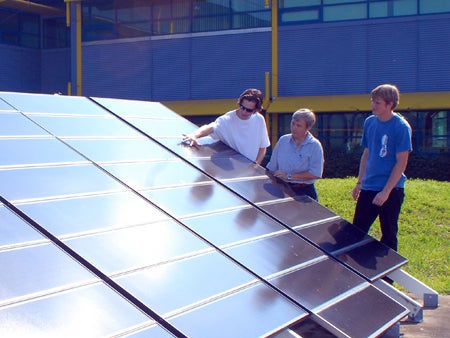 The UCF Florida Solar Energy Center will administer a $10 million state program to install solar energy systems on 90 public schools.
The SunSmart Schools E-Shelters (Emergency Shelters) program, unveiled this week by Gov. Charlie Crist, is expected to boost Florida's clean energy sector by providing job opportunities to local installers and vendors. The grant money will come from federal economic stimulus funds.
The solar electric systems, also known as photovoltaic (PV) systems, will provide power during outages, offset electricity costs to the school during normal operations and reduce greenhouse gases.
"Not only will these systems provide a vital energy resource to an emergency shelter," said Bill Young, the SunSmart technical manager at FSEC, "they will also provide noise-free power with no air pollution or fuel supply issues."
Nearly 800 schools in Florida are designated as Enhanced Hurricane Protection Area (EHPA) shelters. The selection process will be highly competitive. Schools will be selected based on demographics, emergency shelter needs, partnerships and existing renewable energy education and outreach plans.
"The SunSmart School and E-Shelters program will help protect our environment for future generations," Crist said. "Educating Floridians and utilizing energy efficient technologies will strengthen our economy by increasing Florida's energy independence and reducing greenhouse gas emissions."
Teachers and students alike will benefit from the systems. Energy curriculum workshops for teachers will be provided, and students – as well as the public – will be able to analyze the performance data that will be uploaded to www.energywhiz.com. The program will also provide operation and maintenance workshops for facility managers.
Each participating school will receive a 10-kilowatt solar energy system with a battery back-up – complete with installation. The system will provide enough power for critical energy needs such as lighting, communications and essential medical equipment.
"Our goal is to have PV systems spread throughout the state, ideally at least one SunSmart E-Shelter in every county," said Susan Schleith, SunSmart program manager.
Those interested in participating in the program should visit www.fsec.ucf.edu/go/sunsmart for more information.