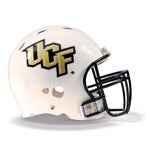 The calendar shows less than three weeks before the opener and the UCF football team might feel like it's time to start hitting someone else. However, UCF coaches would say that there's much work to be done. But after a dozen workouts that have included everything from scrimmage segments to hitting a tackling dummy (no, they were not hitting me) it is time to look at what we've seen. Here's 12-for-12, a dozen things to know after a dozen practices:
George O'Leary is watching his quarterbacks… closely: Rob Calabrese and Jeffrey Godfrey have had their moments. Calabrese has gotten most of the work with the first-offense. Godfrey, working with the second offensive unit, has had to face UCF's number one defense. That's not fun. It appears both quarterbacks will play with packages designed for them.
Depth at tailback is emerging: While Brynn Harvey rehabs his way back, Jonathan Davis, Jeff Brinson and Brendan Kelly have handled the load. Davis shined in last Thursday's scrimmage and Brinson seems a lot more comfortable as he has learned the offense.
There is a new look offensive line: Nick Pieschel has moved from left tackle to right guard. The move slides redshirt freshman Chris Martin into left tackle and gives UCF a massive right side of the line with Pieschel, Jah Reid at tackle and, at times, tight end Adam Nissley.
Speaking of the offensive line… we give you Breny Key: Key, the offensive line coach, is worth the price of admission to practice (I know we don't charge to get into practice, but the line fit). A former guard at Georgia Tech under George O'Leary, Key is intense, passionate, fiery, pumped, full-throttled…anything you want to come up with. His players love him and you better or else.
Wide receivers a plenty: When UCF's third offense takes the field it features three pass catchers that could start on a lot of C-USA teams. It's a nice problem for position coach David Kelly to have. Kamar Aiken looks like he's ready for a big year, as is A.J. Guyton, Quincy McDuffie, Jamar Newsome, Brian Watters…..you get the picture.
David Kelly's sweats: If you attend a UCF practice you will see, that no matter the temperature, David Kelly wears a sweatshirt and sweat pants. Always has and always will. Why? Because he likes too. Good enough for me.
Speed and more speed: No college football team wants to be slow, but compared to recent UCF teams, the 2010 version is fast. There is speed all over. And the speed is not just at the positions you expect such as wide receivers, running backs and defensive backs. The Knights boast two of the fastest linebackers in the country in Derrick Hallman and Lawrence Young. And Bruce Miller is nasty fast. Nasty fast is good by the way.
Freshmen will play: UCF has some very talented newcomers, aside from Jeffrey Godfrey, who will see action this season. On the defensive line, Victor Gray and E.J. Dunston have looked sharp in camp. Jordan Ozerities keeps pushing for a depth chart readjustment and George O'Leary could not stop praising the new group of true freshmen offensive linemen recently. That group includes Jordan and Justin McCray, Torrian Wilson and tiny Tony Jaco (he's only 6-foot-8, 310 pounds).
New Troups being formed: The departure of Torrell Troup to the NFL has meant new faces must step in. Freshmen Victor Gray and EJ Dunston have stepped in with JUCO newcomer Barry Snider and veteran Wes Tunuufi Sauvao. You don't just replace Troup(how about that for a cliché?). But O'Leary believes there is some talent and if need be, Miller can swing inside for certain matchups.
Quarterback meet blanket… as in coverage: While wide receiver is viewed as UCF's deepest position, defensive backs can't be far behind. George O'Leary and position coach Sean Beckton say there's at least 10 strong for the secondary. A healthy Emery Allen is big and give credit to senior Justin Boddie. His solid camp has pushed all-American Josh Robinson. Oh, by the way, Kemal Ishmael and A.J. Bouye are really good.
Find the Knight in the new uniform: Each day an offensive and defensive player get to don the new uniform tops. Play a game with friends when you attend practice. Who can spot the players first? It's fun. Try it.
High praise from the coach: George O'Leary has often been reserved in praise for a team in mid-August. While he is the first to remind everyone that there is a lot of work before the start of the season, he has praised the senior leadership, condition of the team, pace of practice and execution on the field.
Marc Daniels' From the Press Box runs several times per month on UCFAthletics.com. Listen to Marc during UCF football, men's basketball and baseball radio broadcasts on the UCF-ISP Sports Network. Each weekday, Marc hosts "The Beat of Sports" on ESPN 1080 in Orlando from 9-11 a.m.