There's a dance studio in Maitland, Florida, that's a bit different than the average dance studio. The instructors speak in English and sign language. Each class is uniquely designed for its dancers, who come in all shapes and sizes, differently abled bodies, and all levels of neurodiversity. Some dancers use wheelchairs and some others require help to move their limbs. Nevertheless, all are welcome at the Chance2Dance studio, which is also the birthplace of the Inclusive Impact Initiative.
Nicole Warren '11 founded the nonprofit Chance2Dance with the goal of providing inclusive and accommodating arts opportunities to people of all abilities. Three years ago, a mutual friend connected her with Andrea Piazza '19MA, the owner of Inclusive Impact Therapy, a private therapy practice that seeks to serve the diverse community of Central Florida. In December 2021, Piazza was named the first director of Virtual Programming for Discovery Behavioral Health, which serves 130 treatment centers in 13 states. Both women are lifelong lovers of dance and movement.
Warren has been dancing since the age of 5, and Piazza began dancing after watching The Nutcracker as a child. The team combines their love for dance as well as Warren's elementary education degree and Piazza's graduate degree in clinical mental health counseling.
In addition to Warren's ballet certification and Piazza's undergraduate degree in dance, the studio staff includes a physical therapist and a few instructors who are fluent in sign language.
Warren says she puts great thought into finding the right class for the dancers, depending on their needs. She says Chance2Dance isn't just about dance; it's about creating inclusive programming for individuals of all needs and abilities.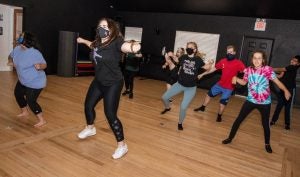 "The classes are very intentionally designed," says Piazza. "We try to stay away from setting the expectation that you need to dance like me or like Nicole because we're not the same human. We really work to embrace that and to make dances that tell their story, not putting our narrative on them, and that's really empowering for them in this space."
For example, if someone has hearing differentiations, they provide headphones and lower the speaker sound. They have light dimmers throughout the studio, which was Florida's first sensory-friendly dance studio. For individuals in wheelchairs, the instructors can help move their limbs or provide tap shoes and a raised floor to dance on.
"We create a myriad of accommodations for whatever need they have. Every individual is different. They come to us with a need, and we address it, assess it and create something that works for them and the whole group," says Warren. "We're not letting their disabilities or needs hold them back. We're enhancing those differences."
Their friendship has blossomed into more opportunities for spreading the message of diversity and acceptance: They've used their dance studio as the launching pad for a new initiative.
It's through their dreams that they've been able to expand Chance2Dance's offerings and think of ways to educate and advocate for inclusivity. "We're really great collaborative, creative partners," says Warren. "We dream together."
"We're not letting their disabilities or needs hold them back. We're enhancing those differences."
From their dance studio, the duo made the Inclusive Impact Initiative. In 2019, Piazza created The Nutcracker Reimagined, an inclusive retelling of the classic ballet and a book. Using the original book, Piazza reframed the characters to include diverse characters from different racial and culture backgrounds with varying disabilities. Piazza illustrated the book, taking inspiration from the Chance2Dance dancers. "I really wanted them to see themselves in this show. I didn't want it to be a neurotypical show," she says.
The show was a collaboration with UCF. The physical therapy department was involved as was the Inclusive Education Services department, where Piazza volunteered during graduate school. The counselor education program also volunteered. Piazza's creative retelling won her a UCF 30 Under 30 Award in 2020.
That project launched the Inclusive Impact Initiative, says Warren, which they want to complement the dance studio, yet be its own entity. Working on the book opened their eyes even further to the lack of programming, products and advocacy for the neurodiverse population. "Neurotypical individuals don't often embrace the disabled world. We might not think about the importance of a visual sign, a ramp, dimmers in a room or a certain color on the wall. I never want to speak for my dancers," says Warren. "I want to be the voice that they don't have. I want to share their stories."
One of the first projects was to begin their Inclusive Classics series, with the goal of publishing a book annually. They began with Peter Pan in Everland: An Inclusive Retelling of the Classic Tale, which was published in April.
"For me, these classic stories are what a lot of American identities are built around. I love the idea in Peter Pan, where any person regardless of identity or ability can find a home. That's the message of inclusivity," says Piazza.
The pair wanted to repackage these classics that and, in this reconstruction, provide a teaching moment. The Inclusive Impact Initiative aims to advocate and educate, and what better place to start than with a children's book. "We're telling these tales with real life members of the world who are different colors, who have different thoughts and different impairments, different strengths and weaknesses," says Warren.
The main character of the book is an Asian child with autism. "The Asian population is quite underrepresented in our culture, so what a special leading character for a child at a developing age — to see themselves in that story," says Warren.
While working on the book, the pair thought of accessibility and diversity during every step in the process, from the type and size of the font to the image of the dog depicted in the story. Warren says they recruited every possible background and ability to read the book to make sure it wasn't a misrepresentation of anything, including gender norms. "We had so many people of different communities come together to read this book to make sure we were doing it respectfully and appropriately," says Warren. "Our biggest thing is allowing everyone to feel seen, heard, respected and loved."
"We want the world to embrace inclusive culture," says Piazza.