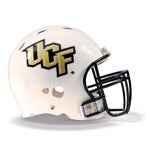 Conference USA announced its 2010 football schedules on Tuesday and UCF will play six home games at Bright House Networks Stadium this fall.
ESPN and C-USA announced that three UCF games have been picked up for national television and were moved to weeknight primetime broadcast windows. The Knights' home game against UAB and road game at Marshall will be on Wednesdays, while UCF's road game at Houston will take place on a Friday night. The two Wednesday night games will air on ESPN, while the Houston game will be seen on ESPN2. All three games are scheduled for 8 p.m. ET kickoffs. Additional television broadcasts will be added at later dates, sometimes as late as 12-days prior to the game, per Conference USA's television contracts.
Fans who want to enjoy a full season of UCF home games in 2010 can purchase season tickets now, starting for just $99, by calling the Athletic Ticket Office at (407) 823-1000 or by logging onto UCFAthletics.com. Current season ticket holders are reminded that the renewal deadline is April 1. You can also purchase advance tickets there for the Spring Game on April 17 at Bright House Networks Stadium and the postgame barbecue with the Knights.
Tickets in the visiting team sections for all UCF football away games will go on sale May 1. Season ticket holders will be sent purchase information via email. All seating will be filled based on GKC Priority Points. Ticket prices for UCF Football away games are as follows: Kansas State – $35, Buffalo – $30, Houston – $35, Tulane – $35, Marshall – $32, Memphis – TBA.
Single game tickets for all UCF football home games will go on sale later this summer.
For the latest news on the Knights, log on to UCFAthletics.com – the official site for UCF varsity sports. The site, which also contains ticket and Golden Knights Club donor information, is also the home of UCF's new online apparel store. Also visit UCFPhotos.com, the exclusive fan source for UCF action sports pictures.
2010 UCF FOOTBALL SCHEDULE (DATE, OPPONENT, TV TIME)
Sat. Sept. 4 SOUTH DAKOTA
Sat. Sept. 11 NC STATE (FW)
Sat. Sept. 18 at Buffalo
Sat. Sept. 25 at Kansas State
Wed. Oct. 6 UAB* ESPN 8 p.m.
Wed. Oct. 13 at Marshall* ESPN 8 p.m.
Sat. Oct. 23 RICE* (HC)
Sat. Oct. 30 EAST CAROLINA*
Fri. Nov. 5 at Houston* ESPN2 8 p.m.
Sat. Nov. 13 SOUTHERN MISS*
Sat. Nov. 20 at Tulane*
Sat. Nov. 27 at Memphis*
Sat. Dec. 4 Conference USA Championship Game
* Denotes Conference USA games.
All home games are in BOLD CAPS and will be played at Bright House Networks Stadium.
Additional game times and television information will be announced at later dates, sometimes as late as 12 days prior to the game.