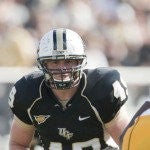 Due to an elaborate game of phone tag, I didn't speak with Central Florida defensive line coach Jim Panagos before this story ran this week on his longtime pupil, 49ers rookie Bruce Miller.
But after finally connecting with Panagos today, I thought his insights were worth passing along. (And, no, I'm not on Bruce Miller's PR staff).
The biggest takeaway from the conversation with Panagos? If Miller doesn't successfully make the transition from college defensive end to NFL fullback, the seventh-round pick appears perfectly suited to earn a living as a special-teams psycho.
Panagos, a Vikings defensive assistant from 2002-05 and Miller's position coach the past four seasons, said Miller played on all four special-teams units every year at UCF.
And the two-time Conference USA Defensive Player of the Year relished the grunt work.
"I took him off the kickoff team one game and he was about ready to kill me," Panagos said. "That's how much this kid loves football. That's how tough and nasty he is … I could show you clips of him on kickoff return. He's up in the front, so he's got to run 40 yards back and block somebody, and he's taking guys through our bench and into the stands. Numerous times. This is the type of the player they're getting. He's definitely a Jim-Harbaugh-type player."
Indeed, Harbaugh spoke glowingly about Miller's I-just-want-to-play-football response when the Niners told him about their plans to make him a fullback.
But Panagos said Miller provides more than guts and effort. He termed him the best player he's coached at UCF, a list that includes defensive tackle Torell Troup, a second-round pick of the Bills in the 2010 NFL draft.
Panagos acknowledged Miller doesn't look the part — he's got short arms, so-so speed and average size (6-2, 245).
But he says Miller possesses a rare blend of instincts and intangibles.
"We play a game on Saturday and I get to work on Sunday morning at 6 o'clock and he's already in there watching film and waiting for me," Panagos said. "He'd say, 'Coach, I watched the film, here's what I did wrong and here's how I grade myself.' For four years he did that every week."
Source: San Francisco Chronicle, More Miller: DE-turned-FB could be special-teams stalwart, by Eric Branch, July 14 2011 at 11:35 AM