HCA Healthcare and the UCF College of Medicine have named Wendy H. Brandon, FACHE, as CEO of UCF Lake Nona Medical Center. Slated to open by the end of 2020, the hospital strives to represent the future of medicine in Central Florida while delivering outstanding training for physicians. Brandon will begin her new role on January 1, 2019.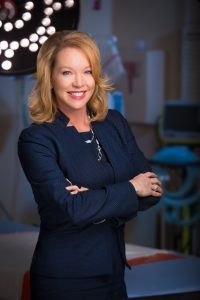 With more than two decades of experience in healthcare leadership, Brandon has served for 10 years as CEO of HCA's Central Florida Regional Hospital, a 221-bed facility in Sanford. Her achievements include overseeing the launch of the hospital's Level II Trauma Center, opening the region's first freestanding emergency department and leading the development of Oviedo Medical Center. Previously, she led Englewood Community Hospital in HCA's West Florida Division.
"Wendy is a seasoned, dynamic leader who has played a pivotal role in our partnership with UCF at Lake Nona, and we are excited to have her lead our newest hospital in the Central Florida region," said Michael P. Joyce, FACHE, President of HCA Healthcare's North Florida Division. "Under her leadership, we will advance healthcare in Lake Nona Medical City, improve quality of life for the community and provide education that ignites careers in medicine at UCF Lake Nona Medical Center."
UCF Lake Nona Medical Center, a joint venture between HCA Healthcare's North Florida Division and UCF Academic Health, is being built adjacent to the UCF College of Medicine in Lake Nona's emerging Medical City and will operate as a community-based teaching hospital. Facility plans will include clinical research and a 21st century learning environment for medical students, future residents and fellows. The UCF and HCA Healthcare Graduate Medical Education Consortium opened 22 residency and fellowship programs in the last two years to address Florida's physician shortage and are now training about 350 residents in specialties including internal medicine, psychiatry and surgery.
"Through partnership, UCF and HCA Healthcare are providing a new, academic approach to patient care at UCF Lake Nona Medical Center," said Dr. Deborah German, Vice President for Health Affairs and Dean of the UCF College of Medicine. "Wendy Brandon has the experience, knowledge and community focus to help us lead that effort."
Brandon earned her bachelor's degree in business administration from the University of Tennessee at Martin and her MBA from The Jack C. Massey School of Business at Belmont University. She serves in leadership roles on the Orlando Economic Partnership Board, CareerSource Central Florida Board, the Sanford Rotary Club and Seminole County Regional Chamber of Commerce Board. She recently chaired the Seminole State College District Board of Trustees. Among numerous awards, she was named Orlando Business Journal's 2017 Businesswoman of the Year and 2015 CEO of the Year honoree.
"UCF Lake Nona Medical Center is the result of a mission shared by HCA Healthcare and UCF to care for and improve human life," Brandon said. "I couldn't be more honored by this exciting opportunity to build and lead a talented, dedicated team that will expand access to healthcare and train tomorrow's physicians."