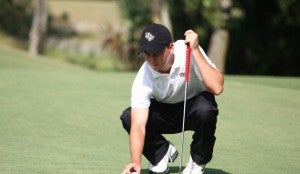 With a lump in his throat and his stomach often in knots, Jim Schneider will peer out onto the golf course and marvel at the fluidity and seemingly effortless swing of his son, Brad Schneider.
Then, as Brad makes his way down the fairway and follows drives that often travel 290 yards or more, the UCF senior's cover is immediately blown. How could it be, Jim Schneider wonders to himself, that Brad's form over the golf ball is so natural and his swing is so beautiful, but simply walking sometimes looks awkward and painful?
Considering all that he's been through, it's a minor miracle that Brad Schneider is even here leading UCF to its fourth consecutive NCAA Regional tournament. Despite suffering a horrific injury years ago that would have crippled many and one that forces him to limp today, Schneider's golf swing still looks as if it belongs on an instructional DVD.
"If you watch Brad walk, he actually plays golf better than he walks," Jim Schneider said with amazement. "Even to this day, I can't believe that there's not an effect on his golf game. But Brad's swing trainer, Todd Anderson, said the other day, `If (Brad) didn't have shorts on you'd never know he had a bad ankle.' Brad's been able to overcome everything pretty well."
By everything Jim Schneider is referring to a nightmarish series of events that not only nearly took away Brad's ability to play golf, but to walk again. Brad's story is one of pain and perseverance, labor and loyalty and ultimately hope for the future.
Five years ago — and just a couple of months after Schneider had accepted a scholarship to play golf at UCF — a pick-up football game left him with a broken femur in his right leg. As if that weren't bad enough for the aspiring golfer, Schneider suffered major nerve damage in both legs, and he had to endure several surgeries, four months in a hospital bed and not being able to walk without assistance for six months. Compartment Syndrome and Reflex Sympathetic Dystrophy developed in his left leg, causing most of the discomfort that persists today. But you'd never be able to tell by watching Brad's sweet swing on the golf course.
There were dozens of dark days along the road to recovery, but as the most recent winner of the David Toms Award — which is given to the men's collegiate golfer who has overcome adversity — Schneider feels fortunate to still be able to enjoy the game he loves so much.
"When the accident happened, all of those thoughts were floating through my head … `What's going to happen? … How long will it take for me to come back?'" he remembers. "There were times when I was completely down in the dumps and questioning everything and wondering why this happened to me. I was wondering what I was going to do the rest of my life. I had those points, but fortunately I didn't spend a lot of time alone. That kept me going and kept my drive and it helped me get back on the golf course."
"The accident"
To this day, Schneider still refers to what happened on that November day in 2006 that changed his life forever as "the accident."
Schneider had a big group of friends, ones with whom he regularly played baseball and golf while growing up in Valrico, outside of Tampa. Two months after agreeing to play college golf at UCF, Schneider rounded up 11 to 13 other friends for a game of boys-being-boys, roughhouse football the day before Thanksgiving.
After catching a pass and running for what he thought would be a touchdown, the 5-foot-6, 150-pound Schneider was pulled backward by his shoulders. His right leg was pinned underneath him as he fell back and the snapping of his femur was so grotesque and loud that it was heard by several of his buddies.
"My leg got caught back behind me really awkwardly, and I heard a snap and felt a lot of pain," Schneider remembers. "It was the upper part of my leg, but I really didn't know if it was my knee, my hip or my femur until the ambulance got there. There was just so much pain."
He was rushed to the same Brandon hospital where his mother, Becky, worked as a nurse. Surgery followed on Thanksgiving Day to repair the fractured right femur, but it was actually just the start of Schneider's medical issues.
Because he suffered such immense trauma, nerve damage hit his left leg the next day. Schneider ultimately developed compartment syndrome, a serious condition that involves increased pressure in a muscle compartment that can lead to muscle and nerve damage and blood flow problems.
Schneider said he doesn't even remember what came next – and that's probably a good thing. Over the next six days, he needed four more surgeries on his left leg. Doctors estimate that Brad lost 90 percent of the muscle and fascia tissue in his left leg because of the trauma. Later, he needed two more surgeries to block the nerves shooting down into his feet.
At that point, playing golf again was the furthest thing from the thoughts of the Schneider family. They simply hoped that their son's pain would dissipate and he'd be able to walk again.
"We were in constant contact with the doctors about the prognosis. Our first worry, naturally, was walking and getting back to a normal life because at the time we didn't know what was going to happen," Jim Schneider said. "It was tough to watch."
One thing that helped throughout the troubling time was the support of then-UCF golf coach Nick Clinard, now a coach at Auburn. Clinard phoned Schneider on the day of the accident and promised that the spot on the UCF golf team would still be there waiting for him after he recovered.
For a teenager just hoping to walk again, UCF's undying support meant everything.
"Coach Clinard he never lost confidence in me. He told me to get well and that he was still looking for me to come to UCF," Brad said. "All of the support from everyone at UCF has been huge for me, allowing me to come back and play again. I don't know what would have happened at any other school. It was huge for Coach Clinard to stand by me and give me another chance. I had to get back and I think I surprised him."
Back on course
Brad spent four months in a hospital bed, but was able to go home early because his mother was a nurse and could care for him. And even though it was six months before he walked for the first time without assistance, Brad was back around the golf course chipping and putting eight weeks later.
Schneider's love for golf was passed down from three generations. For years, there were pictures in his grandfather's Sun City home of a tiny Brad holding toy golf clubs in his hands.
Not long after that, he began to show an immense promise of someone well beyond his years on the golf course. Despite being small compared to others, Brad could crank drives longer than his friends and even started whipping his grandpa and father on the golf course at a young age.
"By 9 or 10 years old, I started playing a lot and started shooting some scores. I started breaking 80 and then I broke 70 the first time when I was 13," Brad said in a matter-of-fact manner.
Remarkably, it wasn't long after learning to walk that Schneider was shooting similar under-par scores with the assistance of a brace on his left leg and ankle. Working daily with golf trainer Randy Meyers and later testing out a variety of braces that would allow him to incorporate the golf swing on wobbly legs, Brad started chipping and putting, worked his way to his mid irons and in a matter of weeks began driving the ball once again.
Getting back on the golf course was the fuel for his inner engine. It made him singularly focused, much the way he is now when he pounds balls for hours on the driving range on off days.
"The first time I stepped foot back on a golf course I was just chipping and putting because it was the easiest thing to do. But really I didn't know how I was ever going to swing a golf club again," Brad admitted. "I just had to find the right brace appropriate for the golf swing and walking the course. Gaining my strength back through all of the physical therapy and strength training was huge for me. Every day I'd work at it 2-to-3 hours a day on weight training, physical therapy and stretching on top of practicing so that I could hit the ball like I did before the injury."
Not a chance, Jim Schneider thought originally. "I knew he'd find a way to play golf again someday, but to get back to competitive golf in college is just amazing."
Brad Schneider even amazed himself during his first full round in 2007, not long after coming to UCF for his redshirt freshman season.
"The first time I played 18 holes, I played in a cart at (Rio Pinar) and shot two-under," he said. "After that, playing more and walking more, I knew I could still do it. And all of my teammates were so supportive of everything that I was doing. I knew then, starting to hit the ball the way that I wanted and getting my strength back, it was very good for me."
Leaving a legacy at UCF
Schneider isn't just one of the most inspiring athletes in the history of athletics at UCF; he is also one of the most successful.
As a freshman, he helped UCF win the first of three straight Conference USA titles. And he saved his best golf for the NCAA Regional when he fired a final round 62 and finished with a three-day total of 13-under 200 that vaulted the Knights into the NCAA Championships.
Remarkable stuff considering that Schneider had to walk 18, and sometimes 36 holes, a day on legs still trying to recover from "the accident" and the surgeries that followed. And in college golf there are no caddies, so forays up the fairways are done with the loop of the golf bag thrown over his shoulder.
C-USA titles followed in 2010 and 2011, as Schneider emerged as UCF's best golfer. And this past season was his finest as a Knight as he took medalist honors at the Northern Intercollegiate, shot 13 rounds at par-or-better and finished in the top five of events five times. Accomplishing so much while also overcoming such great odds helped him with the David Toms Award.
"I can't really sum it up without getting emotional. Seeing all of the work that Brad did, I called him the other day and told him that he really deserved it all," said Jim, who is a fixture at all of Brad's tournaments. "To handle it the way that he did, he's always been an inspiration to a lot of people around him. There are still times when I look at him out there and my stomach still gets in knots and my heart drops because of all that he went through. I'm the one who sometimes wonders, `Why him?' But with Brad, I've never seen him like that. I'm just amazed at how he's been able to handle it all."
Starting on Thursday, Schneider will step to the tee box in a NCAA Regional for the fourth straight year. UCF is one of 13 squads that will compete in the Stanford Regional in California. Coach Bryce Wallor's team, which won three tournament titles and once rose to as high as No. 6 in the national rankings, will be looking to finish in the top five to advance to the NCAA Championship (May 29-June 3 in Pacific Palisades, Calif.).
Regardless of what happens later this week, Brad feels like he's already won. He's back doing what he loves and back hitting the ball 270 yards in the air and 290 yards with the roll.
Shocking stuff, indeed, for someone barely 150 pounds. And even more shocking when playing partners hear stories of all that Brad has had to overcome. They see signs of it in his limp down the fairway, but not in a picture-perfect golf swing that doesn't seem a bit bothered by all of the trauma suffered five years ago.
"Actually, my legs are as good now as they were in junior golf," Brad said with a snicker, still somewhat amazed himself. "Walking 18 holes and walking 36 holes, I can do it and it's not a problem at all. There are certain pains that come up on certain days, but they are something that everyone has. I knew I had to get better physically to play good golf. I did it and I'm able to do something I love again."