Ever since the first phase of an overhaul and expansion the John C. Hitt Library was completed in Spring 2020, UCF Libraries has been eager to officially invite the campus community to see the transformation of the oldest building on campus to a 21st Century Library. During the first week of the Fall 2021 semester, they will finally be able to hold a grand opening celebration, scheduled for Aug. 25 at 9:30 a.m. outside the new entrance facing the Student Union.
"The emphasis is on benefit to students," says Frank Allen, interim director of UCF Libraries who has overseen the transformation of the building since the project started in 2016. "For years we have been putting a plan together to create more collaborative and quieter spaces for our students, and now we are finally able to show them what we have been working on."
This renovation marks the first major overhaul to the library since 1984.
Following the ribbon cutting and remarks from speakers, students can fully explore the 21st Century Library additions with the Back to the Library Scavenger Hunt starting at 10 a.m. — prizes include limited edition rubber ducks and a drawing for a grand prize pack for those who finish the challenge.
Since the campus' opening in 1968, the library has been a popular spot for students to gather, and the new renovations aim to capitalize on that by adding 908 new seats for studying. The majority of these new seats will have power stations at arm's reach to keep laptops, smartphones and tablets charged.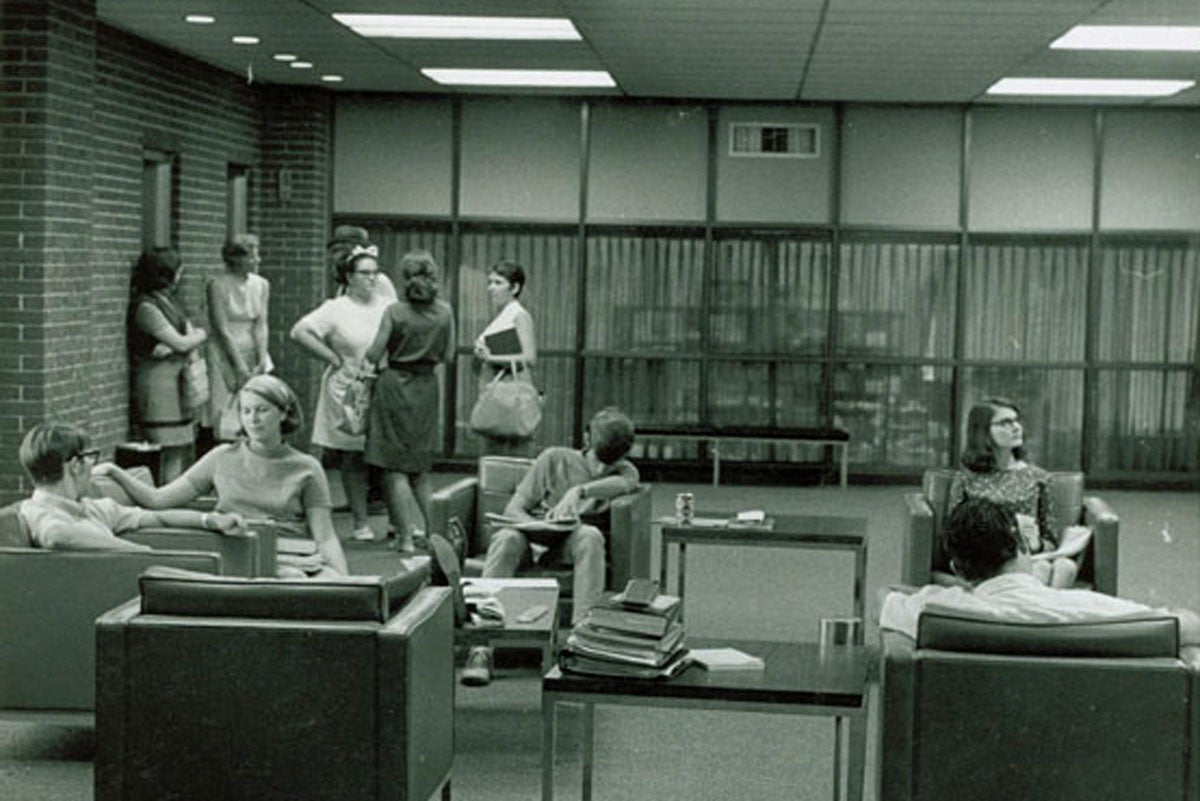 "Students wanted more group study rooms and quiet rooms, but mainly spaces where they could come and work together," says former Director of Libraries Barry Baker. "We do what we do for the students, and we want them to continue to give us input."
Here are some of the features of the new and improved John C Hitt Library.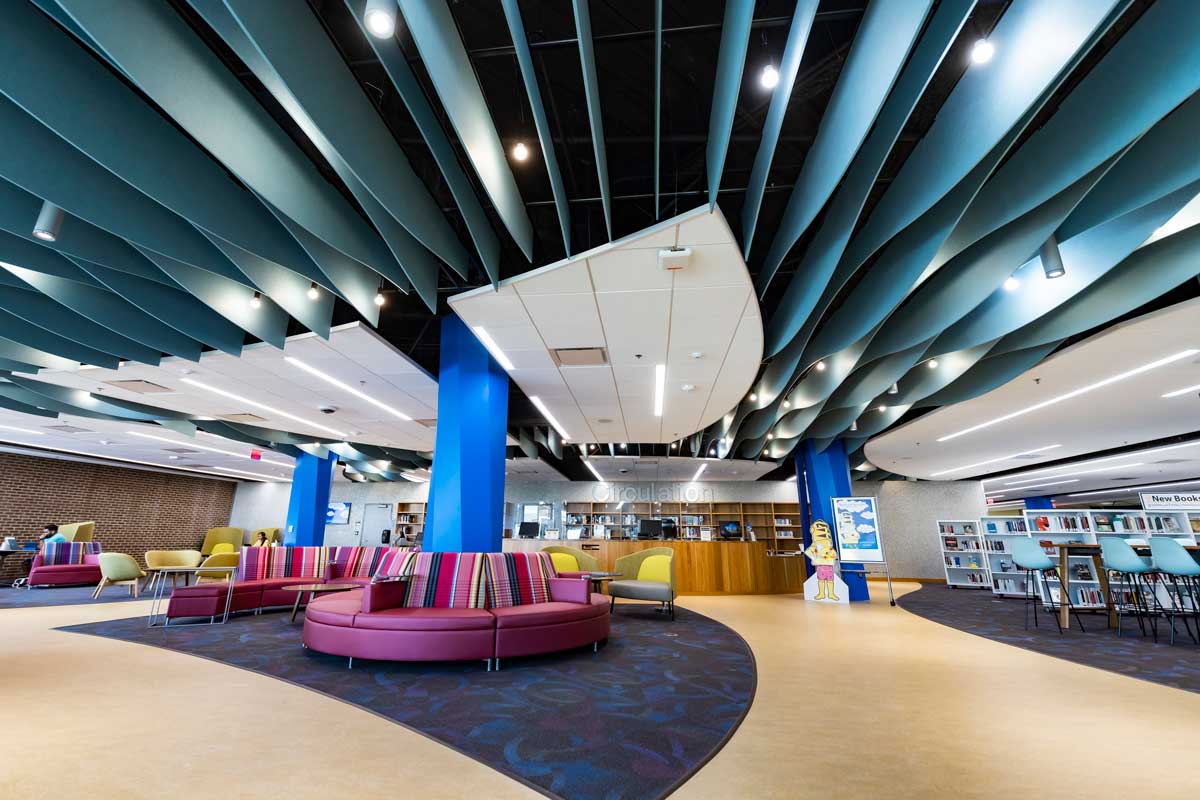 The circulation desk serves as a resource for students who have general inquiries about the library, and to check out materials including reserve items. The main circulation services desk is now located at the new north entrance. The library's "LibTech desk," moved to the former circulation desk location on second floor which faces the Reflecting Pond. This will provide more exposure for this busy desk, which loans out over 135,000 technology-related items per year.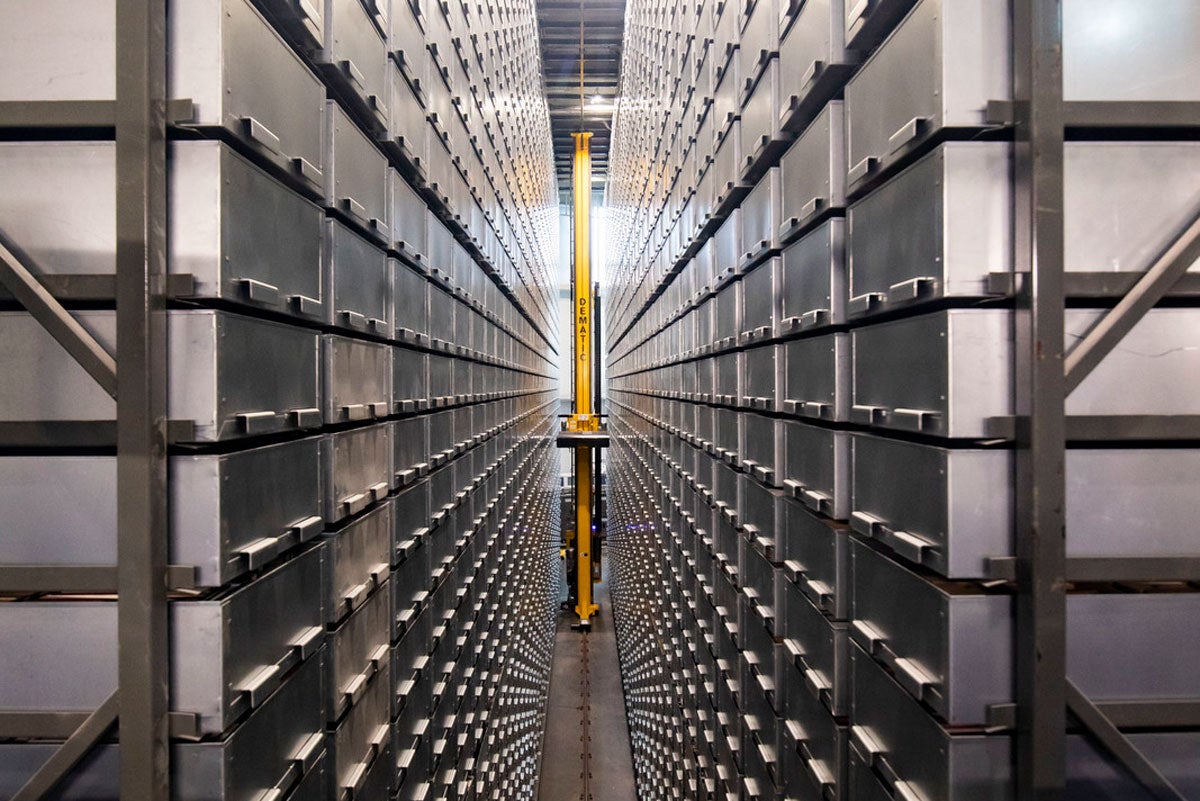 The Automated Retrieval Center (ARC), which opened in 2018, is capable of holding up to 1.25 million volumes of the library's print collection, placed in bins inside racks three stories high, with retrieval by robotic cranes. Placing the volumes in the ARC opens up more "stack" space to create areas for students to study and work together.
"The idea is to repurpose space, and to ease the task of navigating through stacks looking for a book," Allen says. "Now, books can be requested with the click of a button on an electronic device, and each volume will be available for pick up at the circulation desk within 10 minutes."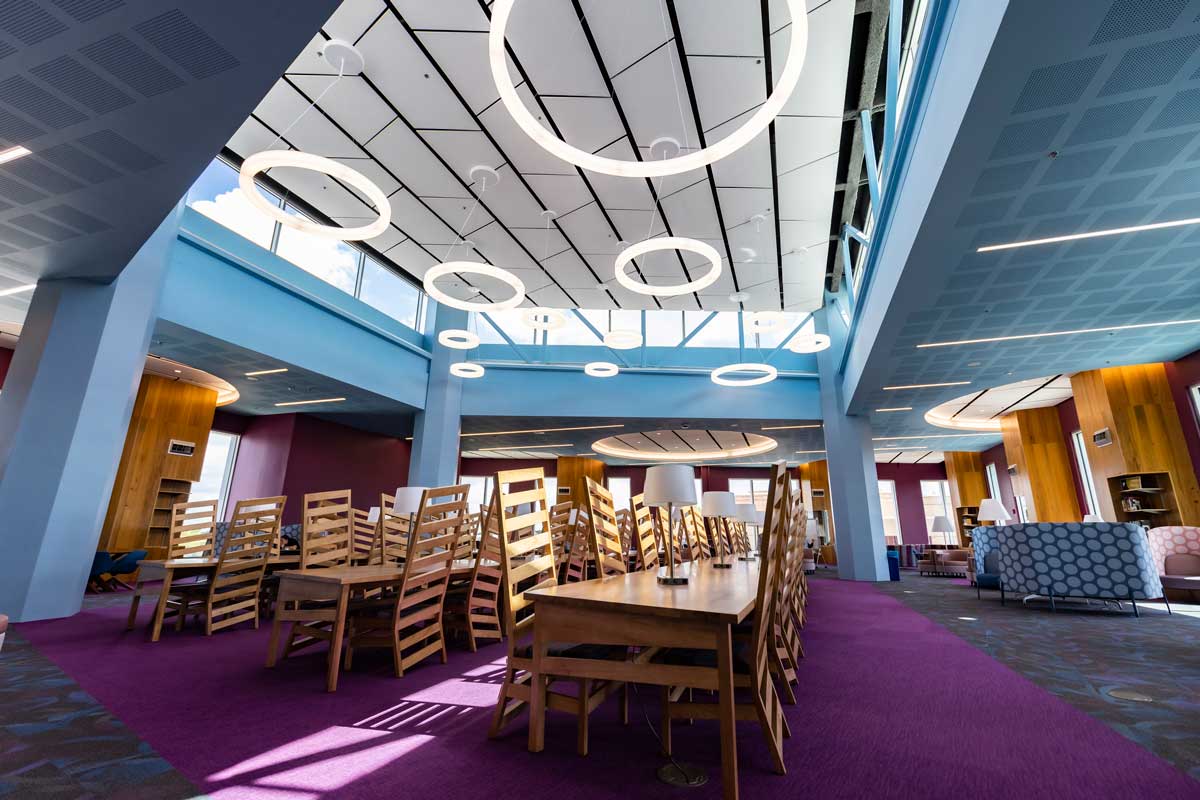 The fourth floor reading room, located on top of the ARC, features a 270-degree view of campus and 235 news seats in a "low-conversation area," offering a great vantage point overlooking the Student Union and expanded outdoor plaza.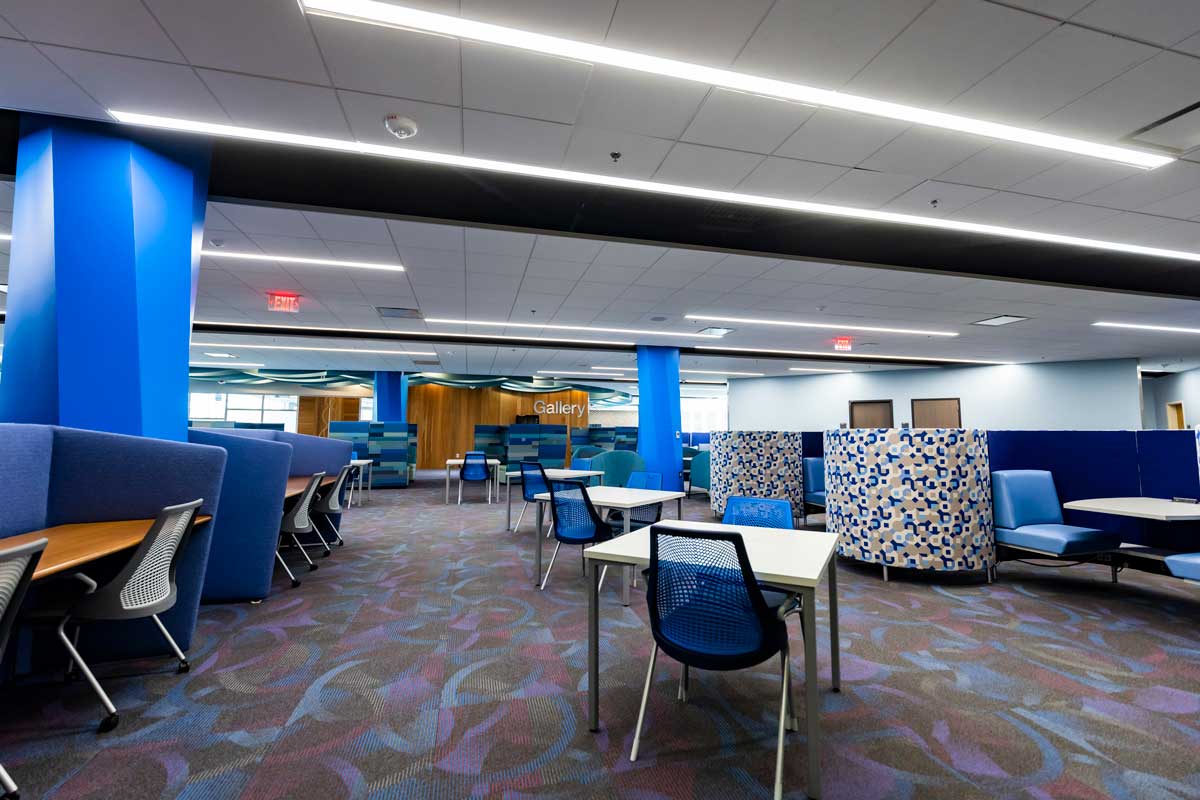 The fourth floor features a new special collections gallery space, which will display a variety of library-owned art, rare collection materials and archival documents.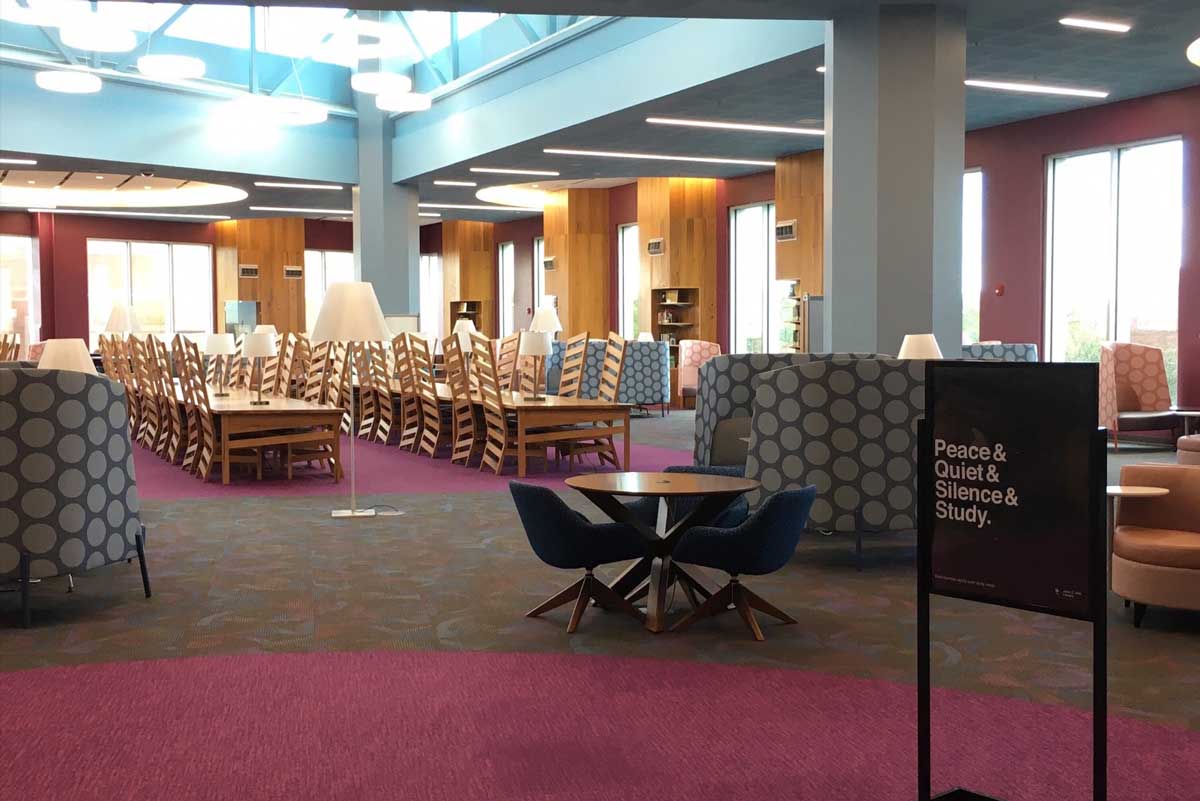 With the renovations, the library aims to become LEED certified, a building designation that recognizes sustainability. Liberal use of reclaimed cypress wood (pictured in background here) pays homage to Florida's native cypress trees.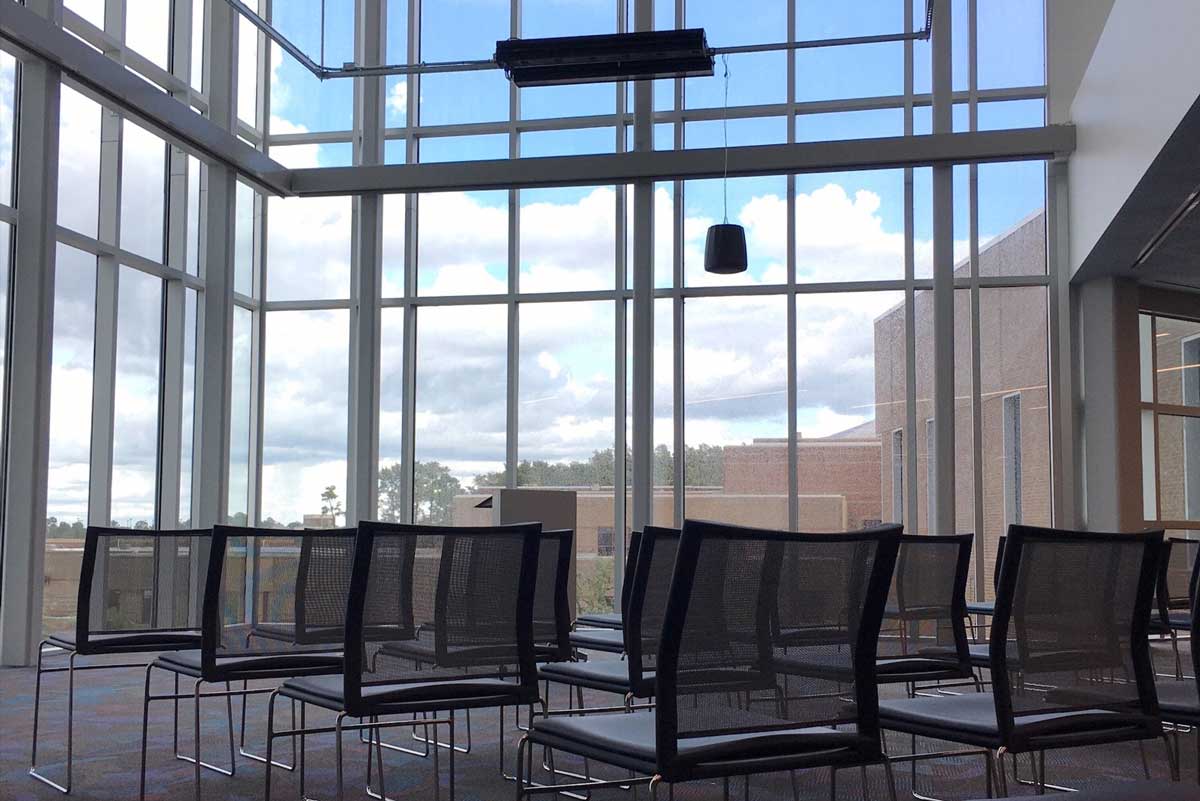 The library will also feature a new multipurpose room with seating capacity for 120 to host lectures and library-related events.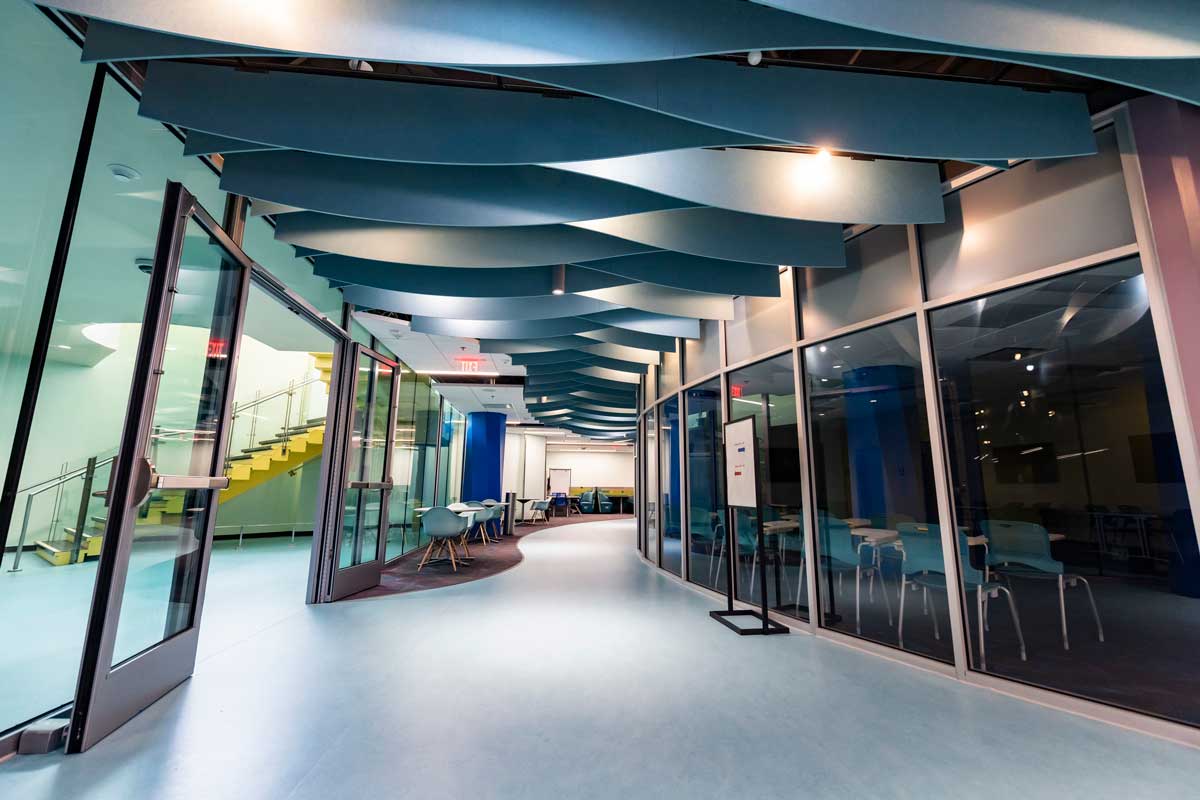 The first floor features two new instruction rooms — including an active learning classroom that features a collaborative, technology-rich learning environment. And in response to student requests for more individual and group study spaces, there are new group study rooms. Students can reserve times via the library website and on-location reservation devices.
The designers made the stairwells more visible and open to increase use and safety. "The idea is to have active design, so the elevators and stairs are positioned so that students prefer to use the stairs," says Baker.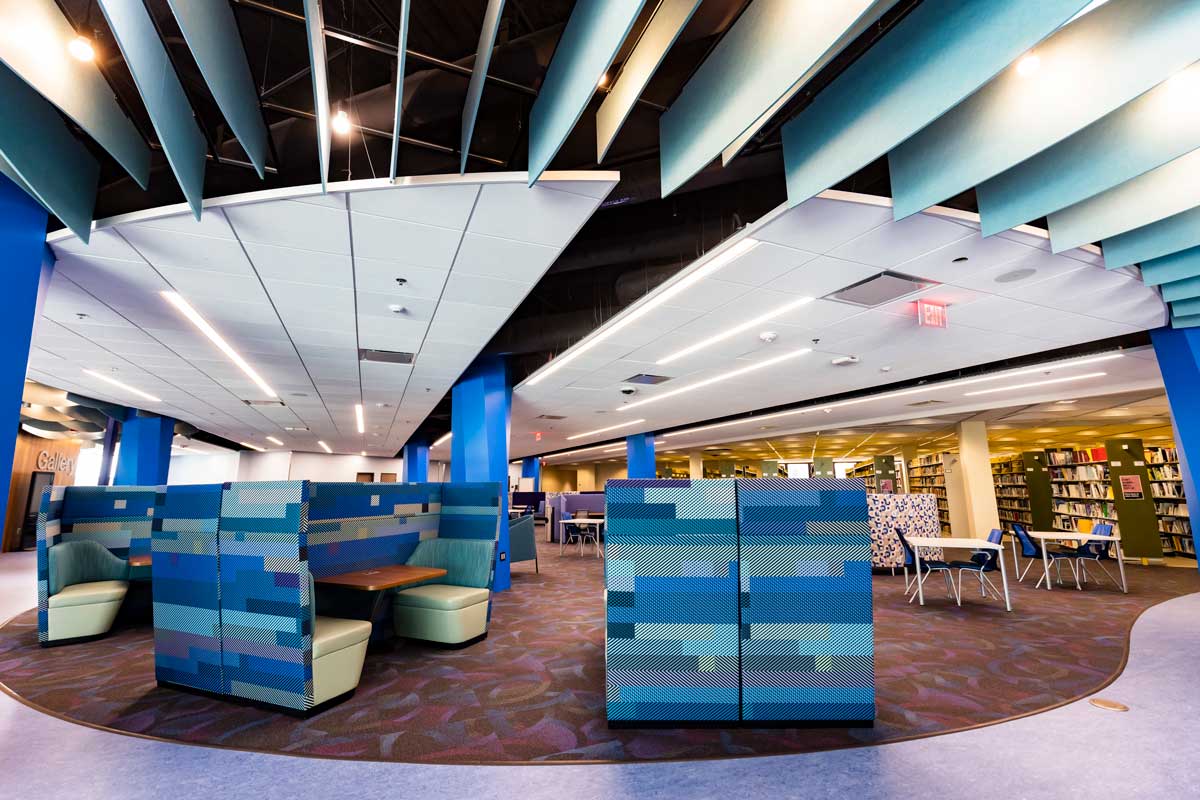 "This project is something that has been in development for years, based on UCF student feedback, successful practices in other libraries, and forward thinking. People will see sharp differences between old and new spaces, which will motivate us to continue the work we have started," Allen says.
This new space represents the start of a complete renovation of the entire library building, which will most likely occur floor by floor, with one or two floors renovated at a time, beginning with the third floor in Fall 2021, which will include a new dedicated study space for graduate students.
Renovations will also include new air conditioning, lighting, plumbing and electrical systems. As existing floors are renovated, more books will be added into the ARC and shelving then removed to free up space for additional student seating. Renovating one floor at a time will also have the benefit of limiting construction to only a set amount of area at a time, thus minimizing disruption to students and visitors in this very busy library.