Jillian Gloria of Orlando has always been inspired by space exploration, and as a junior pursuing aerospace engineering at UCF she has held multiple research positions and worked with industry as she prepares to someday become an astronaut.
Her most recent project came out of her involvement with UCF physics Assistant Professor William Kaden's Research Group where she had the opportunity to study water evolution processes that take place on the moon. Within this group, Gloria focused on developing hardware used to study the changes in chemistry on models of the moon and increase efficiency in thin film growth. These models were made of aluminosilicates minerals that play an important role in finding water on the moon.
The lab simulated the effects of space weathering on the moon by growing aluminosilicate thin-films in a vacuum in the lab and exposing them to different forms of radiation testing. This work led to a co-authorship on a NASA-funded paper recently published in the Journal of Vacuum Science and Technology. The understanding of such processes gleaned from this type of work will help NASA plan exploration missions by providing an improved map to search for water on the moon, says Kaden.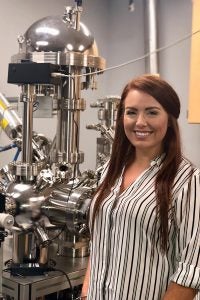 "Understanding how water evolves on the moon is one of the big questions scientists must answer as we look to move life off Earth," Gloria says. "This research could have big implications in the future of solar radiation as it pertains to using the moon's surface water to create a stable environment for human life there."
Gloria also will be expanding her research alongside Professor Seetha Raghavan in partnership with the German Aerospace Center. Gloria will study materials that experience stresses during flights that hit Mach 5 or more, specifically spacecraft. She begins her work this semester at UCF thanks to a National Science Foundation Research Fellowship, and she expects to complete her work in Germany this summer.
"I am so grateful to be at UCF," Gloria says. "It has given me the chance to work on real NASA missions, but even more importantly provided me the opportunity to work with the very scientists I look up to." She documents her research on an Instagram account, @enjillneer, which she started to encourage others to pursue a STEM degree.
"I strongly believe there is a huge gap in the STEM initiative between inspiring kids at a young age and when they get to college and begin pursuing a STEM degree," she says. "So often they begin to fail classes and want to drop out." Her own hard work as a student transfer from Valencia College is a testament to the intentional effort and intensity with which she has pursued STEM.
It is with this in mind that she participates in various STEM outreach opportunities in the community and beyond, including with Orange County Public Schools, the Central Florida STEM Education Council, Barnes & Noble, and NASA Kennedy Space Center Visitor's Complex, as well as a LinkedIn commercial and Fox's Xploration Outer Space TV show. At the show, she was a finalist in an annual student astronaut contest.
In her involvement with OCPS she has the opportunity to speak to K-12 students about their interests in STEM as well as share her story in hopes of inspiring students of all ages and demographics to pursue a STEM-based degree.
She views herself as a hard-working dreamer who has had many doors opened. Those who work with her say she's opened most of those doors through her hard work and enthusiasm.
"Jillian has deep enthusiasm for space and that motivates her to seek out opportunities to build the science and engineering that the space program needs," says Phillip Metzger, a researcher at the Florida Space Institute (FSI) at UCF. He had the opportunity to work alongside Gloria on a NASA-funded project at the Exolith Lab at FSI. "She is already making a strong contribution to space, even before graduating."
Gloria plans to continue her contribution to the exploration of space with the hope of someday landing on a planet and discovering new life. She hopes to seek her master's degree at UCF after she graduates next summer.