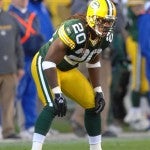 More than 35 former UCF Knights, who are presently or have played in the NFL, are returning to Orlando this weekend to take part in the UCF Spring Football Festival this Saturday at Bright House Networks Stadium. Many of them will be joining 2011 season ticket holders for an exclusive autograph session from 12-1 p.m. inside the stadium.
Current NFL players returning are Atari Bigby, Pat Brown, Joe Burnett, Leger Douzable, Mike Greco, Brandon Marshall, Sha'reff Rashad, Asante Samuel, Mike Sims-Walker, Josh Sitton, Kevin Smith and Torell Troup. Joining them are former NFL players Damien Demps, Corris Ervin, Travis Fisher, Ryan Flinn, Jimmy Fryzel, Doug Gabriel, Mike Gruttadauria, Alex Haynes, Rashad Jeanty, Shawn Jefferson, Darcy Johnson, Paul Miranda, Elton Patterson and Terrance Williams.
Several others will be on-hand Friday night for the annual Football Lettermen's Club Golf Outing and Luncheon at Rio Pinar Country Club.
After getting the NFL alumni autographs, fans can watch the next wave of NFL Knights in action in the 2 p.m. Spring Game for just $5. Students and children 12 and under are free. Following the game, there will be another FREE autograph session, this time with the current UCF team.
Only 2011 UCF football season ticket holders are eligible to attend the autograph session, so purchase or renew for the upcoming season to guarantee your opportunity to meet some of the best players in Knights' history.