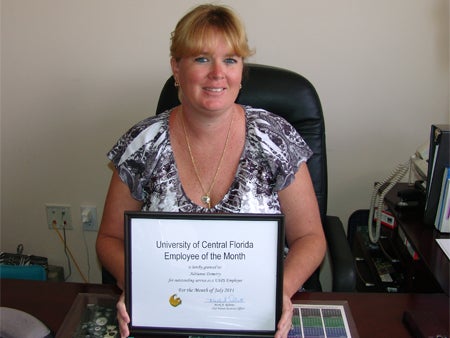 Congratulations to Adrianne "DeeDee" Demetry, administrative assistant for Student Leadership Development, who was named USPS Employee of the Month for July 2011. Demetry came to UCF in 1995 and has been working in the Division of Student Development and Enrollment Services since 2002.
Her coworkers state: "DeeDee is dependable, competent, efficient, self-sufficient and has a wealth of knowledge in regards to UCF HR, PeopleSoft and university paperwork, rules and regulations;" "In her role, she goes above and beyond her normal work requirements. She has 'inherited' numerous responsibilities due to staff changes which make her position more rigorous than some other employees at the university;" and "She is well organized and is able to effectively coordinate office protocols and programs. Through her diverse experiences at the university, she is greatly qualified for this award."
In addition to a Barnes & Noble gift card, introduction to UCF's Board of Trustees as well as other valuable prizes, the Employee of the Month now receives an additional one-time $200 cash award. Demetry is now one of 12 nominees eligible for the USPS Employee of the Year, which is awarded annually at UCF's Employee Awards Program.