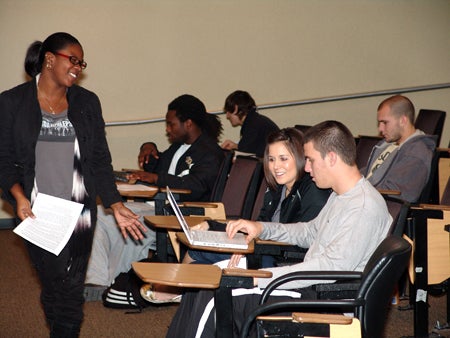 For the sixth consecutive term, the average team GPA for varsity teams exceeded 3.0 during the fall 2010 semester. The average team GPA for the fall was 3.117, the highest in school history. Volleyball had the highest team GPA (3.565) and is one of seven teams to have a team GPA in excess of 3.2. The others include: men's and women's tennis, cross-country, track, women's golf and rowing.
In total, 55 percent of student-athletes earned a 3.0 GPA or higher during the term, including 5.2 percent who earned a perfect 4.0 GPA.
During the fall, the men's and women's soccer teams qualified and won a game in the NCAA championship tournament; the men's basketball team went undefeated; and the football team won the conference championship and the liberty Bowl.
"When one considers the remarkable accomplishments our student-athletes achieved in athletics this fall and that they were equally as successful in the classroom, it makes us all proud to be members of the UCF community," says Mark Gumble, director of Academic Services for Student-Athletes (ASSA). "Our student-athletes are embracing the UCF Creed and striving for excellence in all that they do."
ASSA offers a wide range of services for all varsity student-athletes at UCF. These services extend from the time a recruited student-athlete makes an official visit to UCF to the point when a student-athlete leaves the university, which is typically upon graduation. ASSA provides student-athletes with academic advising, academic support and tutoring. In addition, ASSA's mentoring program provides assistance for student-athletes in developing the skills necessary to be a successful student and lifelong learner.
ASSA is a department in the Division of Student Development and Enrollment Services.