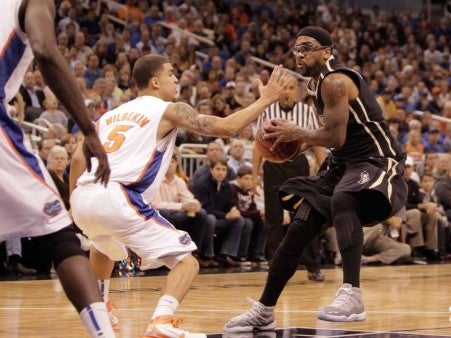 The UCF men's basketball team will continue its quest for a postseason title far from home as the Knights will meet Creighton Wednesday in Omaha, Neb., in the 2011 CBI presented by Zebra Pen semifinals. Tipoff from the Qwest Center is 8 p.m. Eastern, and the contest will be televised nationally on HDNet.
UCF (21-11) advanced to the semifinals by defeating visiting Rhode Island, 66-54, on Monday at the UCF Arena. With the win, head coach Donnie Jones' Knights improved to 15-0 against non-conference opponents this season.
Sophomore forward Keith Clanton (Orlando, Fla.) led the Knights with 16 points and nine boards against the Rams. UCF trailed by three points at halftime, but outscored Rhode Island 39-24 in the second half, when the Knights shot 68.0 percent overall.
Creighton is 21-14 on the year. The Bluejays topped visiting Davidson, 102-92, in quarterfinal action Monday.
UCF and Creighton will be meeting for the first time.
The winner of the UCF-Creighton contest will advance to the CBI championship series. The best-of-three series begins on March 28.
Fans in Orlando can listen to the game on the UCF Sports Network from IMG College and its flagship station, 740 The Game in Orlando.