Almost 50 percent of the green sea turtles in the Indian River Lagoon have tumors all over their bodies and despite data going back more than two decades, the cause of the disease remains a mystery.
University of Central Florida assistant professor and biologist Kate Mansfield works on various sea turtle research projects and is now partnering with UCF molecular ecologist Anna Savage to see if they can figure out how fibropapillomatosis or FP for short develops in turtles and why.
There is some existing work on FP, but Savage brings a unique approach to the UCF team. She specializes in figuring out the role genes play in species resistance to viruses and bacteria. Most of her work has been with frogs and she had never worked with turtles, until now.
"That's why I'm so excited," Savage said. "There's been a lot of data collected and there is some literature on FP. But it's a complicated disease. The belief is there are a lot of factors that play into the tumor formation. I'm taking a slightly different approach by looking at the genes related to turtle immunity to see if we can find a pattern that might lead us to some answers."
Preliminary data show that the tumors in the sea turtles Savage has examined carry a specific herpesvirus. But some turtles with no tumors also have biomarkers for the virus in their skin and blood. And there are some turtles that have no presence of the virus at all. Important clues may be found in the genes of turtles with the virus, but no tumors, Savage said.
She and Mansfield recently earned a $17,631 grant from the Sea Turtle Conservancy to take a deeper genetic look at what may be driving the tumor disease among green and loggerhead sea turtles. They have a deep data set to review thanks to the UCF Marine Turtle Research Group that has been collecting sea turtle data since 1982. UCF researchers and students have been monitoring the health and nesting patterns of sea turtles at the Archie Carr National Wildlife Refuge (with US Fish and Wildlife Authorization), the Indian River Lagoon and the Tidal Basin near Cape Canaveral. The Archie Carr is a one of the most important nesting area for sea turtles in the Western Hemisphere.
Mansfield and her students capture sea turtles in the Indian River Lagoon twice a month to collect data and monitor their health. The biologists check the turtles' weight body condition, collect samples of blood, skin, and when present, tumors. When finished, all turtles are flipper tagged and released back into the water. Large numbers of juvenile green sea turtles visit the lagoon – one of the most important feeding areas for the species.
"We encounter on average 100-200 turtles in the IRL a year and in some cases we have samples going back a decade or two," Mansfield said. "So we have a unique opportunity to leverage our long-term dataset to answer some long-standing questions, and to fill some needed data gaps in sea turtle conservation."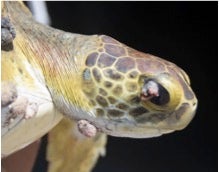 Courtesy of UCF Marine Turtle Research Group
The UCF Marine Turtle Research Group studies all life stages of these sea creatures. Sea turtles remain at sea for most of their lives, where it is difficult to observe and track them over time. Turtles don't reach maturity for 20-30 years. It is important to understand the threats and impacts to the health of the juveniles, like those found in the IRL, in order to ensure that future generations of sea turtles will continue to nest in Florida.
In addition to work on our local nesting beaches and coastal waters, Mansfield and her graduate students have been working in the Gulf of Mexico, and south Atlantic and Indian oceans to unravel the mystery of the sea "lost years" – examining where the youngest stages of sea turtles go and how they interact with their oceanic habitats.
Mansfield and the turtle team's work helps state and federal managers better protect the endangered and threatened species for future generations.