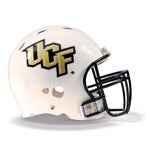 UCF will depart Orlando this afternoon for the upcoming St. Petersburg Bowl presented by Beef 'O' Brady's and UCFBowl.com will be the number one source to follow the Knights all week long!
The UCF Knights Insider, John Denton, along with Jeff Sharon and the UCF SportsKnight crew will be on-site in St. Petersburg beginning Tuesday evening to bring UCF's exciting bowl week directly back to you with several updates throughout the day at UCFBowl.com. The Voice of the Knights, Marc Daniels, will also post his popular 'From the Press Box' columns daily on the official website of UCF Athletics. The staff at UCF Athletics Communications will round out bowl coverage with several press releases daily and photo galleries of the team activities on and off the field.
The UCF SportsKnight television show will be doing several special online editions and the coverage will begin this evening with a recap of the team's final practice on campus and arrival in St. Petersburg followed by a look at the team during the bowl game's official player and VIP welcome party. The website will also have exclusive videos from Beach Bash, Ferg's Block Party and other official events as the week goes along.
The St. Petersburg Bowl's ticket office has reportedly called next Saturday's game a sellout, and the only way to get a ticket is through UCF. A very limited amount of tickets in the official UCF team section are still available by calling the UCF Athletics Ticket Office at (407) 823-1000.
Source: UCF Athletics