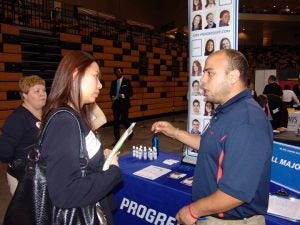 On February 5, Career Services showcased the highly anticipated spring 2013 Career at the UCF Arena. This annual event gave students the opportunity to network with career professionals from a wide-variety of industries. This year's event attracted over 1,700 students and 191 corporations.
Business professional attire was a requirement for all attendees and everyone came out looking their best. Students and alumni eagerly distributed their resumes and business cards to employers while actively engaging in resourceful communication.
Dannielle, a senior majoring in hospitality management, stated "the career expo provided a great opportunity for students to interact with a variety of employers for a chance to obtain full-time employment."
Here are a few comments employers had to say about the interactive event: "great quality," "good candidates to work with," "best job fair yet" and "we love the staff, arrangement and organization…You have been excellent to work with." Overall, employers remarked in being jubilant about this year's event and the superb professionalism displayed by UCF students, alumni and staff.
The Career Services' Statewide Job Fair is scheduled for May 9 from 9 a.m. to 3 p.m. at the UCF Arena. Career Services is a department in the Division of Student Development and Enrollment Services.