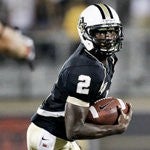 Jeff Godfrey, quarterback, UCF. How do these stats sound for a starting freshman quarterback? 168-294, 2,071 passing yards, 12 TDs, 122.9 passing efficiency, 17 rushing yards, and 5 rushing TDs.
Pretty solid production overall for a freshman, no? Probably one of the best freshman seasons in UCF history, right?
Yes, it was one of the best: that was Daunte Culpepper's freshman year at UCF.
Godfrey's, meanwhile, was better across the board.
Here's what Godfrey put up: 159-238, 2,159 passing yards, 15 TDs, 154.3 passing efficiency, 566 rushing yards, and 10 rushing TDs. Godfrey's throwing motion needs work, but the arm strength is there; he's surprisingly adept at the deep ball.
Then there's the rushing.
Godfrey doesn't have Denard Robinson's level of speed, but he's still darn fast–fast enough to be a nightmare for opposing secondaries when he's scrambling.
Put it all together, and Godfrey — as a true freshman — was a more efficient passer than super-sophs Matt Barkley, Landry Jones, Robinson, Darron Thomas and even Godfrey's closest prototype: Robert Griffin III.
Godfrey is already one of the brightest stars in Conference USA, and we have a feeling he's nowhere near done collecting accolades. — AJ
Source: Excerpt from CBSSports.com, Eye on College Football.