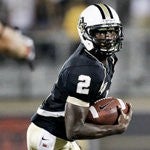 If Jeff Godfrey were three inches taller, he may well have become the starting quarterback at Michigan, West Virginia or any number of other major programs that offered a scholarship to the 2009 Florida 6A Player of the Year.
But because the speedy Godfrey is just 5-foot-11 and 182 pounds, the big boys viewed him as an "athlete." They said they'd "try" him at quarterback, but would more likely move him to receiver or defensive back.
Their loss.
On a spring morning inside Nicholson Field House, the indoor practice facility at the University of Central Florida, one could watch from the sideline as Godfrey zipped pass after pass in stride to a receiver. On some plays, he took the shotgun snap, scrambled away from pressure and turned a potential throwaway play into a positive gain. That quick release coupled with those quick feet are the primary reasons UCF's rising sophomore star is poised to become the next Kellen Moore or Andy Dalton — a big-time quarterback who happens to play in a non-AQ conference.
"Some guys have those special qualities where you disregard the height, and Jeff has that," said UCF offensive coordinator Charlie Taffe, formerly of Maryland and head coach of two CFL teams. "He's got tremendous physical gifts, he's football smart, he understands defense. He's not just an athlete playing quarterback, he's a quarterback that happens to be a special athlete."
Godfrey, a former standout for prep power Miami Central, became one of the most high-profile signees of coach George O'Leary's eight-year tenure when he joined the Conference USA school, and he wasted no time delivering on the hype. Taking over as starter four games into his freshman season, Godfrey finished 2010 as the nation's 15th-ranked passer while leading the Knights to an 11-3 record, a conference title and a Liberty Bowl win over Georgia, the program's first bowl victory.
For UCF fans, Godfrey brings to mind decorated dual-threat quarterback Daunte Culpepper, who played for the Knights in their infant days as a Division I-A program back in the late '90s. For O'Leary, the more apt comparison is to another college standout from that period whom he happened to coach.
"[Godfrey] reminds me so much of Joe Hamilton," the former Georgia Tech coach said. "They both had the knack for taking a bad play and making a good play out of it. How much can you coach that? That's really instinctive. That's what he has a great knack of."
O'Leary's tutorship of Hamilton, the 1999 Heisman runner-up who stood 5-10, was a major reason Godfrey found his way to Orlando after initially flirting with Florida State and South Florida. "I was like every other kid — who is UCF? What conference are they in?" said Godfrey.
That didn't stop O'Leary from pursuing Godfrey.
"Everyone was telling him they wanted him, but he was going to be an athlete," said O'Leary. "I said no, you're going to be a quarterback at our place, and you'll never move from quarterback until you walk into my office and tell me, 'Coach, I'd be happier at another position.' He hasn't told me that yet."
He has no reason to.
After graduating from high school a semester early to participate in spring practices at UCF, Godfrey started the 2010 season behind junior Rob Calabrese, but O'Leary gave the freshman playing time in the opener against South Dakota. After leading the Knights to two fourth-quarter touchdowns in a 28-21 loss to N.C. State, Godfrey made his first start the next week at Buffalo and engineered a 15-play, 90-yard go-ahead touchdown drive that included several key scrambles and third-down conversions. The next week he struggled through the air (though ran for 99 yards) in a 17-13 loss at Kansas State.
And then he led the Knights to a 9-1 record the rest of the way, finishing with a 66.8 completion percentage, 2,159 passing yards, 566 rushing yards, 23 total touchdowns and eight interceptions.
"He definitely had some pretty big moments last year to help us win games," said senior tight end Adam Nissley. "When he started getting comfortable and started realizing he had 10 other guys to help him out, he started to do some real impressive things and take control of the offense. It's what we needed."
Now he's become the face O'Leary needed to sell his upstart program.
After a fall from grace when Notre Dame hired, then fired O'Leary in 2001 for stating false claims on his résumé, the rough-edged Long Island native has found redemption building a program that went 0-11 in his first season in '04 into a competitive mid-major. The Knights have won two C-USA titles and played for another during O'Leary's tenure and are currently vying for an invitation from the Big East. (A recent New York Times article alleging possible NCAA violations in UCF's recruitment of several high-profile basketball players and one football player did not help the school's cause.)
Since 2006, UCF has invested more than $200 million in facilities, including the 45,000-seat on-campus Bright House Networks Stadium, and an array of newly constructed dorms and shopping areas. The upgrades have helped attract a higher caliber of recruit.
"That's when you start getting some depth in your program, you're more athletic, you're just trying to replace some positions rather than rebuild a whole bunch of them," said O'Leary. "Now, every game on the schedule, we have an opportunity if we play well to win."
But Godfrey gives UCF a more tangible identity than an indoor practice facility.
"Jeff is a special player," Culpepper told the Orlando Sentinel after watching last year's Homecoming game against Rice from the sideline. "… [He] has the ability to lead this program far beyond where it has ever been."
Godfrey, whose father, Jeff Godfrey III, was also a standout Miami high school quarterback who drilled and coached his son since childhood, seems to belie his youth. He wasted no time taking control of the UCF huddle as a freshman, and he's certainly not lacking for confidence. Asked about the comparisons to Culpepper and Hamilton, the 19-year-old said, "They did a lot of good things, broke a lot of records. That's what I'm trying to do, too."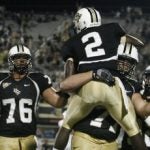 To this point, the sport's "BCS busters" — Utah, Boise State, Hawaii and TCU — have all come from the Mountain West or WAC. With the Utes and Horned Frogs moving to major conferences and the Moore era in Boise set to end after this season, the door could be open for a new Cinderella, this time from the East.
UCF, which cracked the Top 25 last season for the first time in school history, brings back much of its offense this fall, including a trio of accomplished tailbacks (Latavius Murray, Brynn Harvey and Ronnie Weaver) and a veteran offensive line. The defense must replace several key players, including two-time Conference USA Defensive Player of the Year Bruce Miller, but O'Leary is confident heading into 2011. "We have a lot of pieces in place to be a very good football team," he said.
The schedule, which includes Boston College and a trip to BYU, may be a bit too daunting for the Knights to entertain thoughts of a BCS bowl this season. But with Godfrey likely around for another three seasons, there's no rush.
Source: SI.com, Inside College Football, Rising star Jeff Godfrey putting Central Florida on non-AQ map, by Stewart Mandel. Posted: Monday June 20, 2011 12:11PM ; Updated: Monday June 20, 2011 2:01PM